"The world is English" is a common saying in Zambia and many Zambian parents evidently believe the sooner their children learn to speak English the better.
Yet their country has a rich linguistic heritage and seven out of an estimated 70 local languages have official status: Bemba, Nyanja, Lozi, Tonga, Kaonde, Luvale and Lunda.
Spoken language is far more than just a medium for day-to-day communication. It is also a vehicle for handing down sayings, teachings and even wisdom from one generation to the next.
Lost generation
Many people will find it truly alarming that Zambia now has a generation of young people who haven't mastered any language properly. They can't speak their mother tongue and their command of English is faulty.
Nine-year-old Natasha Banda from northern Zambia can't speak any of her country's local languages. "My mum never taught me my traditional language," she told DW. "I am just sitting at the table and they are speaking this certain language, I am not sure (which). All I know is English," she said.
Phylis Chibuye, a mother of two small children, believes parents need to expose their offspring to both English and local languages, but need to keep the balance right. "I always ensure that when we are at home we speak our local language," she said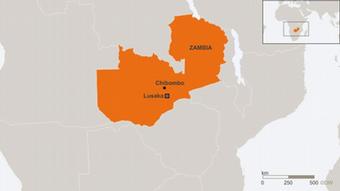 Zambia has many local languages though English dominates in education
Mweetwa Maimbolwa works for Zambia's Ministry of Education and evidently believes the problem is not as serious as many might fear. He said that the country needs "to ensure we have a program where local languages will be used as a medium of communication from grade one to twelve."
Global language
So how did Zambia's local languages end up languishing in the shadows? Friday Mulenga is a historian at the University of Zambia. He explains that Bemba, Lozi and Tonga were unacceptable as national languages and English was therefore accepted as the best possible compromise.
"English is just a language which we use to instruct pupils in schools and students in colleges," he said. Rising to the language's defense, he added "If parents don't teach their children their mother tongue, it is not the fault of English. English is a global language, we need it whether you like it or not!"
Zambia is governed by President Michael Sata's Patriotic Front party, which was swept to power in elections in 2011. The party's general secretary Wynter Kabimba said that the country's education system was still steeped in colonialism and did not meet the challenges of a developing country. The government, he added, intended to change this.
Local Zambian media reported on Thursday, 14 February that the government had launched a revised school curriculum under which English would be the language of instruction from grade five (age 11) upwards. Primary teaching for younger children would be in one of the official seven local languages.