"There is no doubt about the fact that the disease has been caused by a case of poisoning by dioxin," said Michael Zimpfer, the medical chief of Vienna's Rudolfinerhaus clinic. "We suspect a cause triggered by a third party."
Zimpfer (photo, right) added the clinic's conclusion that Yushchenko had been poisoned was based on "skin changes, blood samples and histological findings."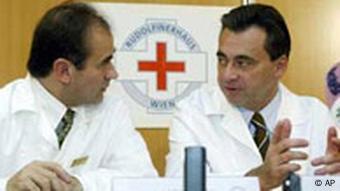 Michael Zimpfer (right) and Nicolai Korpan during Saturday's press conference
Dioxin is the name given to a group of closely related toxins that can cause cancer and death, and was used in the defoliant Agent Orange. Its ingestion is known to cause a severe skin disease called chloracne and damage to the liver and nervous system.
Yushchenko, the 50-year-old pro-Western candidate in the Ukraine's bitterly contested presidential race, fell ill on Sept. 6 with an ailment that has left his face severely disfigured.
Analysts said the disclosure could deliver a fatal blow to Yanukovych's chances in the upcoming vote, staged as a rerun of a flawed Nov. 21 election.
"This helps Yushchenko and will seriously hurt his opponent, although it will be difficult to prove that he was involved," said political analyst Volodymyr Malinkovych. "If before I thought that Yushchenko would win 52 percent of the vote, now I think that it is more likely to rise to 60."
Seen as the likely winner of the election re-run on Dec. 26, Yushchenko has repeatedly claimed that he was poisoned by political rivals.
Ukrainian public prosecutors have opened an investigation and said on Oct. 22 that he was suffering from a fever caused by a virus that affected his liver.
Victim of a murder plot?
But before leaving for Vienna on Friday, Yushchenho reiterated that he had been the victim of a murder plot.
"I believe now more and more that what happened to me was an act of a settling of political scores," he told reporters. "The aim was to kill me."
He said he planned to return to Kiev on Sunday and was confident of defeating Yanukovych when voters return to the polls in two weeks.
"The recent revolution (in Ukraine) has opened the eyes of many civil servants who were implicated in (fraud) during the earlier rounds," he said.
Yushchenko pushes for EU membership
In an interview with the Financial Times published on Saturday, he called on the European Union to accept his country as a future member of the 25-strong bloc at a future date.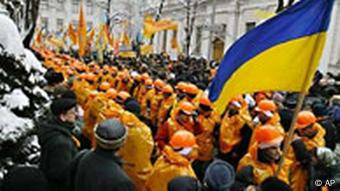 Ukrainian opposition supporters stand in front of the parliament in Kiev on Dec. 1
"Of course, Ukraine is waiting for real concrete steps in response to these democratic and political processes that are occurring in Ukraine," Yushchenko said in an interview with the Financial Times published on Saturday. "We are awaiting analogous steps from the European Union. In these 17 days we have shown that we are a different country, we are a different people."
In the interview Yushchenko, who trained as an economist, set out a plan consisting of four stages, culminating in the adhesion of the former Soviet republic to the EU.
Ukraine, he told the newspaper, should first become a market economy. It should then join the World Trade Organisation, and become an EU associate member before eventually acquiring full membership.
Putin supports EU plan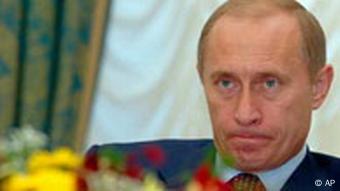 Russian President Vladimir Putin
Friday President Vladimir Putin said he would be "pleased" to see Ukraine admitted to the European Union because this would only benefit Russia's economy due to its deep and long-standing industrial links with its neighbor.
The Russian leader's comments marked a sharp departure from the barrage of criticism that Russia has directed at the European Union and other European institutions in the past 10 days.
Privatization criticized
In the interview Yushchenko also criticised the series of privatizations under the presidency of outgoing Ukrainian President Leonid Kuchma, which he said had favoured people close to the regime.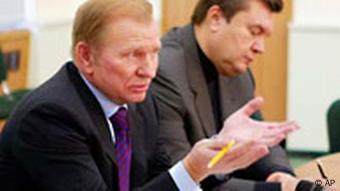 Ukrainian President Leonid Kuchma (left) and Prime Minister Viktor Yanukovych
"Many assets we all know were handed over without competition just as more than 200 years ago Catherine the Great gave out land in southern Ukraine to her lovers and favourites," he was quoted as saying. "In this same way today strategic assets of the state were transferred to people close to Kuchma and (Prime Minister Viktor) Yanukovytch."