It's a packed house at Kampnagel, a venue for the performing arts in Hamburg. A modern dance company from Brazil is performing its latest piece. In the audience is Lukas Johannsen, a 20-year-old volunteer with the non-profit organization Kulturschlüssel, which aims to make cultural events across the city accessible to economically or physically disadvantaged people.
Kulturschlüssel, among other activities, gives away free tickets to those who can't afford them and also recruits volunteers to accompany people with physical disabilities who cannot go out alone. Lukas has volunteered come out with around a dozen people.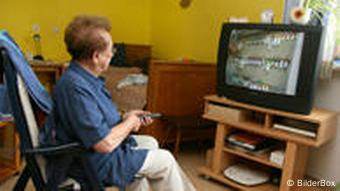 Volunteers help get old people out of their homes, and into cultural venues
"Accompanying people to cultural events is a lot of fun because you get a sense for what you are helping them do," Lukas said. "Many of our clients are grateful to be able to go to the event, which they normally wouldn't be able to afford or are sometimes afraid to go to alone - we help them enjoy culture regardless."
A little company
Karin and Annelore are two elderly ladies attending the event and whom Lukas has helped out in the past. "I am happy to be able to go along," Karin said. "I can't walk that well anymore. This service allows me to go out and not sit in the house all day."
"As a partially disabled person, I am thankful to be able to enjoy some culture," Annelore reflected. "Otherwise, it would be difficult. We go out in a group so I also meet new people. Sometimes we go out for a meal after the event and it's always a nice atmosphere."
Replacements are hard to come by
Accompanying people to cultural events is part of the volunteer work Lukas is doing at Kulturschlüssel during his "social year," as it's called in Germany. His job also includes a lot of the administrative work for the organization. Every few weeks Lukas compiles a list of cultural events on offer in the city, and also keeps track of the ever-growing number of people who want to use the organization's services.
Germany has an aging population increasing dependent on help
"Work at Kulturschlüssel would be impossible without Lukas," noted Frank Nestler, Lukas' boss. "We're largely dependent on volunteers, so we need continuity, which Lukas provides by being here every day. He keeps an overview of those who sign up for our services and he matches our volunteers with clients."
Every year, more than 30,000 young people in Germany sign up for twelve months of civilian service, or voluntary work in the social sector. For some, it's been an option to Germany's mandatory military service, which is now being phased out in the country. For others, including Lukas, such work is an opportunity to learn more about themselves.
"For me the main reason to do a year of voluntary work in the social services is that it gives me some time between graduating from high school and starting my normal work life," he said. "I am a wheelchair-user so I'm not required to do military or civilian service. But I wanted to do something useful with my time while figuring out my own future."
Future prospects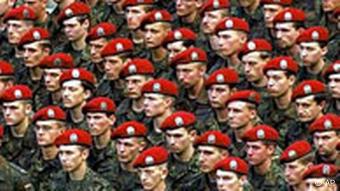 Conscription is coming to an end in Germany
Lukas never really sits still, though, as he's also the singer and producer for Bitte Lächeln, a rock band composed of disabled and non-disabled musicians. The group formed as part of a theater project run by the non-profit organization Life with Disability - the same organization that runs Hamburg's Kulturschlüssel. Deciding where to do his voluntary social year was easy for Lukas.
"I am interested in working with disabled people because I've been familiar with the work for a long time and I appreciate it a lot," he reflected. "I did quite a bit of theater work through Life With Disability in the past, but I wanted to find out more about the organization and how it's run internally."
The phasing-out of mandatory military service in Germany this year will have a particularly tough impact hard on the social sector. Institutions such as hospitals, kindergartens and care homes have long depended on the thousands of young men who chose to do the alternative civilian service instead of joining the military for a year. Recruiting full-time staff for those jobs would be costly. Some have suggested that the problem could be solved if more young Germans signed up for a voluntary social year in the future.
Lukas said he would recommend the experience to anyone. "I think a voluntary social year can be very rewarding because there is a lot to be learned," he noted. "I believe that it can only lead to personal gain for every young person because they have to do things they normally wouldn't."
Author: Julian Bohne / als
Editor: Stuart Tiffen