Two months before the end of World War Two in Germany, on March 7, 1945, US forces captured the railway bridge, which the German troops had tried, but failed to destroy. It was one of very few of the 40 bridges across the Rhine that was still standing. And it enabled thousands of Allied troops to cross the river and make their way East.
The unexpected availability of a bridgehead on the eastern side of the Rhine more than two weeks in advance of the planned crossing allegedly prompted Allied high commander Dwight Eisenhower to say that the bridge was "worth its weight in gold."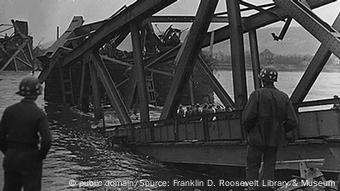 The bridge finally collapsed
The bridge finally collapsed on 17 March, but by then US Army combat engineers had finished building tactical steel heavy duty bridges nearby.
The Allied forces sent across over 25,000 troops within a matter of under three weeks and reach the Ruhr valley, Germany's industrial heartland.
German and American military authorities agreed that capturing the bridge shortened the war.
The capture of a bridge across the Rhine became front page news in American newspapers.
Veterans commemorating the historic event in Remagen
A large number of books and articles in newspapers and magazines on the battle for the bridge have been published. The best-known work on the battle is 1957's The Bridge at Remagen by the American author Ken Hechler, which was the basis for a film in 1968, which depicts historical events, but is fictional in all other aspects.
The Ludendorff Bridge was not rebuilt following World War II.
The 70th year anniversary of its capture was commemorated by veterans.
jj/rg (dpa, afp, kna)