Many Germans associate the term "world literature" with US-American and European literature. To help broaden that rather narrow view, the House of World Cultures in Berlin - Germany's national center for contemporary non-European art - and the Elementarteilchen Foundation in Hamburg, a non-profit organization that supports cultural projects, have introduced the International Literature Award. It is to be presented for the first time on September 30 in Berlin, distinguishing international works of prose fiction in German translation. The aim is to attract attention to Asian, African and Latin American writers and expand the common definition of world literature.
A broad selection, but few readers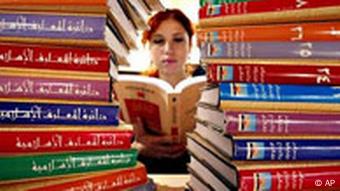 Foreign books can be challenging
German readers still need some convincing, however. "The specific style of European and American literature has influenced many readers so much, that it's a real effort for them to read something different," said Barbara Klefisch, who works in a bookshop in Cologne.
Klefisch is responsible for the non-European literature section in the shop. In contrast to many other bookstores, books by African, Asian and Latin American authors are not only available in large numbers in her store, but also clearly separated from other books. This arrangement helps to draw customers' attention to the international titles, which would otherwise easily go unnoticed among the hundreds of other books.
Political literature from the 70s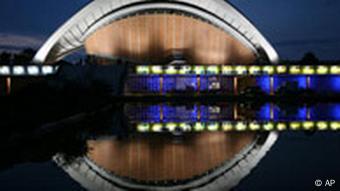 The House of World Cultures in Berlin is keen to give foreign writers a voice
There are certainly plenty of titles to choose from since the number of translations of non-European books into German has increased in recent years. At the turn of the 70s, only a few small, politically-minded publishing companies tried to arouse readers' interest in post-colonial developments. One was the Peter Hammer publishing company in the western German town of Wuppertal, which was among the first to introduce translations of African and Latin American books to the German market. The political situation at the time was convenient for publishing such books, said Peter Hammer's Monika Bilstein.
"There were many people who were interested in exactly that – who were somehow active in third-world issues," said Bilstein. "This has unfortunately changed over time, but I still have the impression that in the past few years, these books have become a bit more popular again."
The "democratic republic of world literature"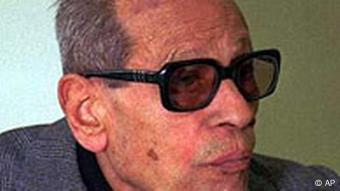 Naguib Mahfouz's efforts were rewarded with a Nobel Prize
The interest in non-European literature in the 70s was for the most part politically-generated, while the literary quality of a book was often of secondary importance. Works by many prominent African, Asian, Caribbean and Arab authors were not translated into German until the 1980s.
It was a market gap that the Swiss-based Unionsverlag publishing house decided to fill. Its founder, Lucien Leitess, aimed to create "a type of democratic republic of world literature, where origin, language and style did not matter." He wanted to have all prominent world authors equally represented; it was an idea that made him a trendsetter of his time and showed his talent for spotting promising authors.
In the mid-80s, Unionsverlag published the first German translation of a book by Egyptian author Naguib Mahfouz. In 1988 Mahfouz became the first Arabic-language author to receive the Nobel Prize for Literature. On the day of the award's announcement, sales of his books at Unionsverlag increased from 300 to 30,000 copies.
Foreign ideas hard to convey
Author Isabel Allende comes from Chile
The successes of individual authors can arouse interest in the literature of entire regions. Peter Hammer's Bilstein believes that the reputation of Latin American literature has benefitted from success of works by prominent authors like Gabriel Garcia Marquez, Isabel Allende and Mario Vargas Llosa. These authors attract many German readers, which "gives the young Latin American authors of the future a certain advantage," Bilstein said.
However, the same cannot be said for African authors, Bilstein added. Even the prominent among them are "relatively unknown, and the young African writer generation will have a much more difficult start."
The more foreign a country or culture appears, the harder it is to sell its literature in Germany, Klefisch noted.
"Even open-minded people who are prepared to experience something new find non-European literature a bit hard to grasp," she said.
Still, more authors from distant regions are appearing on the literature scene, with a lot to say about the changes taking place in the globalized world. Some of them have experienced migration and exile, as well as the accompanying changes in their cultural identities - much of which is reflected in their work. The new literature prize could be one way of drawing more attention to their literary efforts.
Author: Christel Wester (ew)
Editor: Louisa Schaefer