While you won't hear Nathalie Geisenberger describing herself as the greatest women's luger ever, as she continues to rack up the honors, including seven gold medals at the World Championships, her statistics are making that argument for her.
The 30-year-old Bavarian came in first in the women's luge in Pyeongchang on Tuesday, claiming the gold medal with a time of 3 minutes 5.232 seconds.Her compatriot Dajana Eitberger came second, with Canada's Alex Gough taking third.
This was Geisenberger's third gold medal following the individual and team-relay medals that she won four years ago in Sochi — not to mention the bronze medal she won in Vancouver.
Pressure? What pressure?
Her secret? Part of it may be that having already achieved what she had in Vancouver and Sochi, she felt no pressure, despite the expectations of a nation — Tuesday's win meant that German women have taken gold in the luge at the last six Winter Olympics.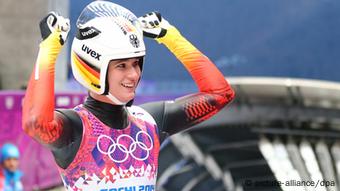 Geisenberger struck gold twice in Sochi
"I've never been so relaxed. I've achieved everything that I've dreamed of, and now a little bit more," she told reporters at the Olympic Sliding Center afterwards. However, she was any less delighted than when she won her previous two golds.
"The highest honor you can achieve in sport is an Olympic gold medal," she said.
Having just turned 30, the question was bound to come up as to whether she planned to be back for a fourth consecutive Olympics in Beijing in 2022.
No plans to quit now
"At the moment I am having a lot of fun. I am still pretty fit, so why should I quit?" she asked. "Whether I will continue for another four years, I can't say at the moment."
Tuesday's gold medal ties her with German men Georg Hackl and Felix Loch for the most luge medals by an individual in Olympic history, and she could well overtake them, even if she chooses not to extend her career that far. On Thursday she'll go for gold again, as part of the German team in the relay.
pfd/mds (AP, dpa)