Day 6 at the Pyeongchang Winter Olympics was another successful one for Germany, beginning with the figure skating pairs. Twenty-four hours after Bruno Massot appeared to have scuppered his and Aljona Savchenko's chances of winning gold by settling for a double salchow instead of a triple in the short program, the French-Ukrainian duo pulled off a flawless performance in the free program. They set a new world record and captured gold for their adopted country.
"We are happy we can do this for Germany, the country that took us in and supported us, this is the main thing," a delighted Savchenko said afterwards.
Much later in the day, the Germans came up with another gold medal in luge. The team of Natalie Geisenberger, Johannes Ludwig, Tobias Endl and Tobias Arlt beat all opponents with a time of 2.24.517 minutes.
Canada also picked up another gold on Thursday, with Dutch-born speedskater Ted-Jan Bloemen setting an Olympic record as he finished first in the men's 10,000 meters.
Also of note was US skier Mikaela Shiffrin's performance on the hill, as she took gold in the women's giant slalom.
Upsets in biathlon
There were a couple of upsets in biathlon, as the favorite, France's Martin Fourcade missed the target twice in his final round of shooting in the men's 20km individual race, to finish 40 seconds behind gold medalist JT Boe of Norway.
On the women's side, German fans were disappointed as Laura Dahlmeier failed to add to her two gold medals in Pyeongchang and had to settle for bronze in the women's 15km individual race. Hanna Oeberg of Sweden took gold, ahead of Slovakia's Anastasiya Kuzmina.
Canadians open gold-medal defense with a win
In men's ice hockey, the defending gold medalists, Canada opened their tournament with a 5-1 win over Switzerland, while the hosts, South Korea gave the Czech Republic more trouble than they may have bargained for.
The South Koreans even took the lead through a goal by Cho Minho at 7:34 of the first period, before the Czechs responded with two of their own before the two teams went retired to the dressing room. Neither team was able to score in the final 40 minutes, making it a 2-1 final for the Czechs.
The German men also opened their campaign, but dropped a 5-2 decision to Finland.
As it happened:
15:13 Canada dominant in ice hockey
Canada are romping to victory against Switzerland, they're up 5-1 now with both Wojtek Wolski and Rene Bourque grabbing two goals apiece.
In the other match currently ongoing, the Czech Republic are still leading South Korea 2-1, with no goals in the second or third periods thus far.
14:35 Victory for Germany in the luge relay
It's another gold for Germany in the luge relay with a time of 2.24.517 minutes. The winning team - Natalie Geisenberger, Johannes Ludwig, Tobias Endl and Tobias Arlt.
That's another gold for the Germany luge contingent and they've defended the gong they won in Sochi four years ago. Canada take silver, finishing just 0.355 seconds behind the Germans and Austria finish with bronze.
The Canadians were pretty stoked...
14:10 Leader change in luge relay
Italy stepped up to take the lead in the race for gold. But the United States of America followed and beat their time by 0.002 - incredible!
14:02 Ice hockey update
Defending gold medalists Canada are 2-0 up over Switzerland.
Order has been restored in the Czech Republic vs. South Korea match-up, the Czechs now 2-1 up after conceding an early goal.
14:00 It's luge time!
It's been all go for the last few hours and now we turn to the luge relay - the last medal event of Day 6!
Latvia are in the lead at the moment, followed very closely by OAR and then a little further behind in third is Poland.
13:53 GOLD for Bloemen
He needed an Olympic record to seal it, but Ted-Jan Bloemen has claimed gold after Dutch compatriot Sven Kramer fell well off the pace in the final run. Bloemen competes for Canada, however, so the gold is all Canada's!
It was a fantastic contest, with Bloemen pushed all the way by Dutchman Jorrit Bergsma, who originally set an Olympic record before Bloemen's stunning effort and takes silver.
Bronze is a surprise. Kramer's run wasn't good enough to make the podium, meaning Italian Nicola Tumolero finishes in third.
13:40 Another Olympic record!!
Back to the speed skating, and the favorites are really pushing each other today.
Ted-Jan Bloemen takes 2.21 seconds off Bergsma's run, and the gauntlet has been well and truly thrown down for Dutchman Sven Kramer. He's in the final pair, we'll know the medalists soon!
— There are 14 laps to go for Kramer, he's going to have to dig deep here, more than a second off the pace
— Now just 2000m to go, or four laps, and Kramer is almost 12 seconds behind. Gold will go to Bloemen.
13:35 Medals finalised!
That's all she wrote in the men's 20km biathlon. Johannes Thingnes Boe takes the gold, Jakov Fak of Slovenia grabs silver, and Austria's Dominik Landertinger finishes with silver.
Martin Fourcade, disappointingly for his team, has left without a medal whatsoever. Quite the shock!
13:29 Big shock in ice hockey!
South Korea take a surprise lead against the Cezch Republic. It's not only an incredible lead, it's South Korea's first ever Olympic men's ice hockey goal.
Even the North Korean cheer team is stoked!

13:21 Bergsma takes on men's speed skating
As expected, Lee's lead won't last. Jorrit Bergsma is ripping apart this ice track - and it's a new Olympic record at 12:41.98.
The favorites are still to run, what this space!
13:17 Fourcade disaster
Martin Fourcade was on target for gold, but he's missed two of his shots on the final round of shooting. He crosses the finish line 40 seconds behind JT Boe, who is now hoping to take the coveted gold medal.
Devastating for Fourcade, who was expected to become the first man in 46 years to defend his Olympic title.
13:15 Ice hockey time!
Ice hockey is back, defending gold medalists Canada are up against Switzerland and Czech Republic face host South Korea.
13:10 Boe takes over lead
Johannes Thingnes Boe crosses the finish line is now the man in the gold seat, that's despite missing two of his final four shots. He has a time of 48:03.8.
Fourcade misses one of his shots in the third round of shooting, one more to go.
13:00 Fourcade on target
Martin Fourcade is a beast at this, another pefect shooting round, and he's on track to catch up the early groups. He shoots all targets in his second round, with two to go.
Meanwhile, Fredrik Lindstroem misses one target on his last round, he's on the home stretch now but will take a one-minute penalty, which could prove costly.
12:53 Lindstroem takes biathlon lead
Lindstroem now with a tidy lead after shooting clean - five shots from five - for the third consecutive round. Can he hold on?
Biathlon can be tricky to keep track of with all the different starting groups... looking forward to the straight-forward mass start on Saturday.
12:48 Peiffer in pursuit!
Germany's Arnd Peiffer is perfect after two rounds of shooting in the men's 20km biathlon, as is Sweden's Fredrik Lindstroem and Ondrej Moravec of the Czech Republic.
Martin Fourcade is behind in a later group.
12:45 Man beats Mountain!
As outlined below, there was a clash between two opposing body types in the speed skating and Lee Seung-hoon of South Korea has triumphed over Germany's much larger human, Moritz Geistreiter. So short, nimble legs win over the long, beefy type.
Lee now stands in the gold position after a cracking run. But with favorites Sven Kramer and Ted-Jan Bloemen, not to mention Jorrit Bergsma, still to race, that will likely change.

12:42 Biathlon is back!
The men's 20km biathlon is underway, by the way, which features four rounds of shooting and - like the women's 15km - there is a one-minute penalty for every shot missed.
Martin Fourcade, who won the 12.5 km pursuit earlier this week, is the favorite for the gold.
12:39 Man vs. Mountain
Men's speed skating has some match-up at the moment. Germany's Moritz Geistreiter versus South Korea's Lee Seung-hoon.
I swear Geistreiter's legs reach Lee's shoulders, he's a beast. What's more advantageous in speed skating? Long, powerful tree trunks for legs, or small, nimble pins? We'll find out soon enough!
12:30 Men's speed skating
So there are six heats in the speed skating, between two skaters at a time, which consist of 25 laps.
The big dogs are yet to race. Ted-Jan Bloemen is in the fifth pairing, Sven Kramer in the sixth and last.
11:50 Biathlon and speed skating medals coming up
The medal hunt is about to continue, with the men's speed skating close to starting. This 10,000m event is all about the Dutch, with Sven Kramer expected to lead the field after breaking the Olympic record earlier this week in the 5000m. His main rival will likely be Canadian Ted-Jan Bloemen, the world-record holder.
Will we see more medal joy for this fella?
We'll also have some more biathlon action — this time the men's 20km.
10:52 Quick Roundup
There are no medal events coming up until 12pm (CET) so we get a little breather!
Running at the moment, however, is a bit of men's ice hockey. Sweden lead Norway 4-0, while Finland have just defeated the Olympic Athletes from Russia 5-1.
Later this afternoon we have Czech Republic vs. South Korea and Switzerland vs. Canada in the ice hockey. Oh, and, of course, some more curling!
Also coming up outside the medal events, which are listed at the top of the live blog, are the men's large hill, with a 12pm start (CET), and the ladies' aerials, also beginning at midday.
10:37 Oeberg holds on to win gold!
That's official, Hanna Oeberg, the 22-year-old from Sweden, has claimed gold in the women's 15km biathlon. Her shooting was on point, 20 from 20, and that's what gets her over the line.
Germany's Laura Dahlmeier missed one of hers in the first round and finishes with bronze. Each shot incurs a one-minute penalty, she finished 40 seconds behind Öberg. Dahlmeier was the favorite, but still not a bad tally so far - two golds and a bronze with the mass start to come on Saturday.
Slovakian Anastasiya Kuzmina takes the silver, despite missing two shots.
10:27 Women's 15km biathlon heating up!
Oeberg looking on intensely as her rivals try to best her time of 33:54:4.
Laura Dahlmeier shoots clean on the fourth, and she's away. She has 31 seconds to make up to beat Öberg to gold, surely that's too much?
Kuzmina is still in second while Germany's Franziska Preuss has moved into the bronze medallion position.
10:12 MEDAL TALLY
Just a quick reminder of the medal tally, it's Germany still in front with Norway, the Netherlands and the USA trailing!
9:50 Kuzmina leads women's 15km biathlon
Slovakian Anastasiya Kuzmina, after winning silver in the pursuit on Monday, is in the lead here.
— 10:01 = Sweden's Hanna Oeberg, in group two, shoots clean in the fourth round and is on track to beat Kuzmina's time
— 10:03 = Germany's Laura Dahlmeier has started in her group, she misses one on the first round of shooting.
— 10:08 = Oeberg is now the leader! She smashes Kuzmina's time by more than 20 seconds.
9:15 Women's 15km individual biathlon begins!
Germany has another gold medal chance here, with Laura Dahlmeier looking to claim her third of the Pyeongchang Games. She won the sprint-pursuit double earlier this week, keep an eye on her in this one!
8.47 Confirmed gold for Haga!
It's a Scandinavian sweep with Norway, Sweden and Finland all grabbing the medals in the women's cross-country free.
Ragnhild Haga grabs gold with that stunning run earlier. Charlotte Kalla (Sweden) finishes with silver and we have a shared bronze medal between Marit Björgen (Norway) and Finland's Krista Parmakoski.
8.23 Haga on target for gold
Update from the women's cross-country free, Norway's Ragnhild Haga has put in an astonishing effort of just over 25 minutes. Sweden's Charlotte Kalla is in second, with Norway's six-time gold medalist Marit Björgen in third. It's unlikely anyone will knock them of the podium.
7:50 Home favorite leads women's 10km cross country
South Korea's Lee Chaewon is in the lead at the halfway mark.
7:30 DAY'S SUMMARY
Some great action overnight (German time) with my colleague Ed McCambridge taking you through the medal winners. Here are the gold medal highlights so far...
— Aljona Savchenko finally wins gold at her fifth Olympics, winning the figure skating pair event with partner Bruno Massot
— United States' Mikaela Shiffrin lives up to expectations with gold in the women's giant slalom
— Norway win first ever men's downhill gold. Aksel Lund Svindal beat out compatriot Kjetil Jansrud and Ben Feuz (Switzerland)
— Pierre Vaultier of France wins men's snowboard cross, ahead of Jarryd Hughes (Australia) and Regino Hernandez (Spain)
7:05 Vaultier claims gold in the men's snowboard cross
A hectic finish in the men's cross final, as Paul Vaultier of France holds his lead from the start to claim gold. Australia's Jarryd Hughes grabbed silver and Regino Hernandez of Spain finished with bronze.
6.44 Shiffrin takes gold in the women's giant slalom
Just like that! Mikaela Shiffrin does what everybody expected and wins the giant slalom after a fantastic second run. She came down in 1.09.20, giving her a combined time of 2.20.02. Norway's Ranghild Mowinckel took silver while Federica Brignone maintained her first run form to claim bronze.
6.30 Men's and women's hockey scores
USA's women outmuscled Canada's in a tight affair in Kwandong, while Germany's men took a pounding from the Fins.
5.51 The women's giant slalom is back up and running!
Here's Mikaela Shiffrin with a piglet to celebrate.
5.50 Things aren't going quite so well in the hockey...
5.30 Germany win pairs skating gold!
Out of nowhere! German duo Aljona Savchenko and Bruno Massot fend off China and OAR to claim gold in the pairs free skating, setting a world record score in the process. They were fourth after the opening short discipline, but a phenomenal showing in the free skating round was enough to push them beyond reach.
It was a nervy wait, however, as previous big hitters China and Russia were the final two teams to perform. They broke down in tears after hearing the news. Just brilliant!
5.07 Aksel Lund Svindal wins men's downhill gold!
He's done it! It was a painful wait for Svindal as dozens of competitors still had to take their turn but, in the end, none of them were at his level. What a fantastic performance to claim (surprisingly!) Norway's first men's downhill gold medal at a Winter Games. It's a Norwegian gold-silver duo too, as Kjetil Jansrud holds on to second spot. Switzerland's Ben Fuez grabs bronze. Let's take a look at those times.
Aksel Lund Svindal (NOR) 1.40.25
Kjetil Jansrud (NOR) 1.40.37
Ben Feuz (SUI) 1.40.43
4.45 Finland on top in the hockey after a cagey first quarter
It's 2-1 to Finland after the first period. It's a close, physical game in Gangneung, with the referee constantly forced to intervene.
You've gotta love Olympic hockey! You'd have thought all the fisticuffs was an NHL thing but it really isn't. All hockey players love a scrap, apparently.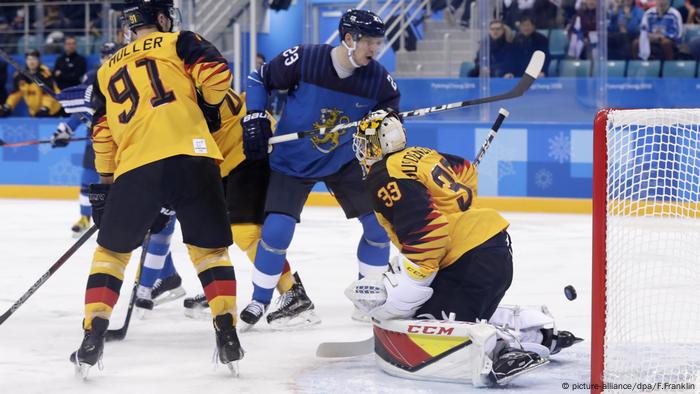 Germany take on Finland at the Geungnang hockey centre
4.38 Men's downhill update
This really is a cracking event. Aksel Lund Svindal remains in pole position with a time of 1.40.25, followed by compatriot Kjetil Jansrud (1.40.37). Swiss world champion Ben Feuz (1.40.43) occupies the bronze medal position.
These are some seriously fine margins given the size of the run. 27 skiiers still to go!
4.31 Italy take the lead in the pairs skating
Scrap that last post. Italian duo Valetina Marchei and Ondrej Hortarek have stormed into pole position with a score of 142.09. OAR go next and knock the Candian's down to bronze position after scoring 138.53. This has been an awful ten minutes for Canadian pair skaters.
Not long to go now. I'll keep you posted!
4.17 Gold and bronze for Canada's pairs skaters?
There's a fair amount going on in Pyeongchang and I have no co-pilot with me this evening, so forgive me for the belated update. We are well over halfway through the event, with 11 of the 16 pairs having already performed. The top 3 are as follows.
Canada - 204.02
Italy - 202.74
Canada - 198.11
4.11 Germany take on Finland at hockey
That's right! The hockey is just getting underway, with Germany facing Finland in Gangneung and USA taking on Canada (what a match-up!) in Kwandong.
Now, I don't claim to be a hockey aficionado but my money's on Finland (cold!) and USA (NHL!). But what do I know?
4.05 Women's giant slalom run one results
That's it for run one in the slalom. No movement in the medal positions since the previous update. Mikaela Shiffrin - alpine skiing's answer to Lionel Messi - is sandwiched between the two Italians and has it all to do in the final run at 5.45. The highest ranked German is Viktoria Rebensburg, who sits just down in eighth with a time of 1.11.45.
Manuela Moelgg (ITA) 1.10.62
Mikalea Shiffrin (USA) 1.10.82
Federica Brignone (ITA) 1.10.91
3.45 The curling scores are in!
After ten thrilling ends in the women's round robin event, the scores are...
Canada 6-8 South Korea
Denmark 5-8 Japan
China 6-7 OAR
Great Britian 5-7 USA
Huge result for USA after a nailbiting encounter with Team GB. The sort of match that explains the level of hype around the curling during these games. The standout match had to be China v OAR, though, with the latter edging a close encounter after an eleventh end. Brilliant drama!
3.43 Norway double in the men's downhill?
It is a Norwegian one-two at the moment in the men's downhill. Kjetil Jansrud is 0.12 seconds behind team-mate Aksel Lund Svindal. What a performance from the Norwegians.
Only 15 from 57 participants have gone so far. I'll keep you updated should anything change in the medal positions.
3.14 Women's giant slalom update
57 of our 81 slalomers have now gone and the leaderboard is beginning to take shape. Golden girl Mikaela Shiffrin is currently nesteld between two Italians in second place.
Manuela Moelgg (ITA) 1.10.62
Mikalea Shiffrin (USA) 1.10.82
Federica Brignone (ITA) 1.10.91
Remember, they all have to go again in the final run at 5.45am. The two times will be added together to produce their final overall time.
3.07 Men's skeleton scores
Heat one of four in the men's skeleton is done and dusted. Let's take a look at the final scores:
Sungbin Yun (South Korea) 50.28
Nikita Tregubov (OAR) 50.59
Axel Jungck (Germany) 50.77
Jisoo Kim (South Korea) 50.80
2.30 Curling update!
Here are the scores as the women's curling round robin event edges into the 6th end.
Canada 1-4 South Korea
Denmark 3-3 Japan
China 3-3 OAR
Britain 3-2 USA
It's kicking off, as Team GB and USA slog it out in a nailbiting showdown. Denmark have pulled things level, after having been down three-zip, while South Korea are clearly feeding off good vibes from the buoyant home crowd. Who doesn't love a bit of curling at half two in the morning?
2.12 The women's giant slalom is off
Finally! After Pyeongchang was hit by windy conditions earlier this week - windy conditions which overstayed their welcome, one might add - the skiing events are back on. Just to set the scene, there will be two runs for each of the 81 participants in this event. The first at 2am CET and the second at 5.45.
Mikaela Shiffrin, who many believe could be the greatest skiier (male or female!) in history, sets off seventh out of the 81 skiiers. She clocks a time of 1.10.82 - enough for second place. Currently leading is Italy's Manuela Molgg (1.10.62).
Updates to follow!
2.02 and we're off!
Jamaica's Anthony Watson kicks things off with a time of 53.13. He's immediately knocked-off top spot by Romania's Dorin Levicu (51.91). There are 30 riders to go in men's heat one. I'll get watching and share the leaderboard once they've all hurtled, face first, down the mountainside.
01.59 Time for the men's skeleton
I'll be sure to keep you abreast of curling developments but attention now turns to the men's skeleton. Surely the most terrifying sport ever cooked up? I'm excited!
Don't know who to root for? Try Akwasi Frimpong! He's the first Ghanaian to ever participate in this event. He's a snappy dresser too!
1.51 The curling is getting tense
After Team GB took an early lead over USA in the women's round robin, they now find themselves 2-1 down in the fourth end. A superb fight back from the Americans. Elsewhere in the round robin event, it's 1-1 between Canada and South Korea, China lead OAR 3 to 1, while Japan are crushing Denmark 3-0. Ouch!
There's still a long way to go though! Hold on to your hats...
1.22 The curling is underway
Canada and South Korea are locked in a gripping showdown and the home side lead 1-0 after the first end. There are 10 ends in a curling match (but you knew that, of course!). In other news, who knew Mr. T was such a big fan of curling?
0.57 A quick weather update...
We notice it conveniently doesn't include any information about wind speed...
0.55 First up, a spot of curling
That's right. The first stop on our day 6 journey is to Gangneung for the women's curling round robin. Here are the opening fixtures, which begin at 1.05:
Canada v South Korea
Denmark v Japan
People's Republic of China v Olympic Athletes from Russia
Great Britain v USA
Some big games there!
0.45 Here we go again...
Wakey wakey, rise and shine! Welcome to the Pyeongchang live blog, where we'll be bringing you the latest news, drama, weather reports (for the love of god, let it be calm!) and medal updates from the slopes of South Korea.
Day 5 was a blast, but that's ancient history now as we turn our attention to some long-overdue skiing events. The ladies' slalom kicks-off at 2.00, which means we should finally get to see US slalom queen Mikaela Shiffrin in action. We can't wait!