Reigning Tour de France champion Bradley Wiggins won his fourth career Olympic gold medal Wednesday after coming in first in the men's road race time trial. The British cyclist's victory added to an already historic summer. Just 10 days ago he became Britain's first Tour de France winner.
Wiggins finished an astonishing 42 seconds ahead of his next-closest competitor, German Tony Martin. His British colleague Chris Froome won Bronze.
"It's never going to get any better than this," said Wiggins after the race at Hampton Court Palace, the former home of King Henry VIII. "To win the Tour de France and the Olympics is the best thing I'll ever do in my career."
Most decorated Olympian
Today's win makes him his country's most decorated Olympian ever with seven total medals, putting him one above legendary rower Steve Redgrave.
The 32-year-old was aware of the extra pressure surrounding today's match, but remained focused. "To be honest there was only one medal for me today," he said. "This was the reason I carried on after the Tour, I came and put myself on the line and to do that, it's brilliant."
After the first time check, Wiggins trailed Martin by five seconds. Wiggins quickly took the lead thereafter, and finished the 44-kilometer race with a time of 50 minutes and 39.54 seconds. Martin, a world champion in 2011, finished in 51 minutes and 21.54 seconds.
"For me today it is like a gold medal," said Martin. "This year Bradley was just unbeatable."
Defending Olympic champion Fabian Cancellara of Switzerland was racing despite suffering a crash-related injury on Saturday, but finished in seventh place.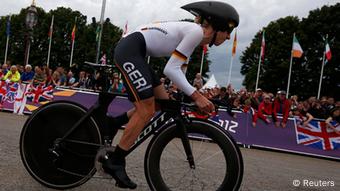 Arndt won silver in the women's time trial
Armstrong captures gold
On Tuesday American Kristin Armstrong defended her 2008 gold medal by winning the women's version of the event, with German Judith Arndt finishing second.
Armstrong dominated the race, leading at every time check, despite coming out of retirement just a year and a half ago. She credits her son, born in 2010, as part of the reason for continuing to compete," The feeling I got in Beijing, nothing could top that, but I couldn't imagine being on the top step of the podium with my son, Lucas, in my arms."
"Now I am officially retired," said the 38-year-old.
dr/ng (AFP, dpa, Reuters)