81-year-old Margot Honecker, the former East German education secretary from 1963 to 1989, accepted the prize from Nicaraguan President Daniel Ortega on Saturday, July 19 -- the 29th anniversary of his Sandinista Revolution, which ended in electoral defeat in 1990. Ortega won the presidency again in 2006.
Honecker reportedly also received the Rubén Dario honor for her husband's services to the people of the Central American country.
"He showed such solidarity and particular caring interest in the free people of Nicaragua," said the wife and spokeswoman of President Ortega, Rosario Murillo, adding that Honecker had supported the first Sandinista government back in the 1980s.
The celebrations in Managua at the weekend were a meeting of socialist leaders past and present, with veterans Ortega and Honecker rubbing shoulders with Venezuelan president Hugo Chavez and Paraguay leader Fernando Lugo.
One guest of honor was another famous widow, Aleida March, married to Cuban icon Ernesto "Che" Guevara, who died in 1967.
Place in History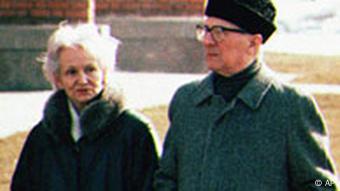 Communist East Germany's first couple
Honecker's husband ruled East Germany throughout the Cold War, overseeing the building of the Berlin Wall.
Ousted by party colleagues in 1989, after German re-unification Erich Honecker and his wife first fled to the Soviet Union but were extradited by the new Russian government to Germany. He was imprisoned and tried for high treason, corruption and misuse of office during the Cold War, in particular for ordering border guards to kill defectors trying to cross the Berlin Wall.
However, as he was dying of liver cancer, he was released from prison. He died in exile in Chile in 1994.
Margot Honecker remained in the country, leading a reclusive life and living off a survivor's pension and the old-age pension of the German old age pension insurance federation.