In comments published in the Sunday newspaper Welt am Sonntag, the head of the conservative Christian Social Union (CSU) and former chancellor candidate in the 2002 general elections criticized Chancellor Gerhard Schröder's center-left government for not doing enough to get the economy on track and reduce unemployment.
By neglecting these key areas, Schröder is to blame for the resurgence of the far-right in the economically depressed eastern states, Stoiber said, referring to the strength of the National Democratic Party (NPD) in Saxony, which garnered nearly 10 percent of the vote in last year's state elections.
Citing the recent announcement of jobless figures above five million, the opposition politician said it was the first time Germany had so many unemployed people since the Great Depression. The country is in a situation it has "not seen since 1932", when mass unemployment helped create the conditions for Hitler's Nazi party to come to power a year later, Stoiber said.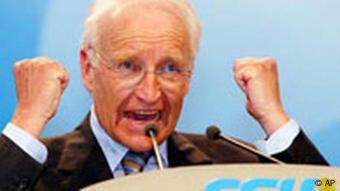 CSU party leader Edmund Stoiber
"The failure of Schröder's economic policies and the extensive unemployment creates a breeding ground for extremists who exploit people's lack of prospects and threaten democracy in our country," the Bavarian premier said.
Fighting off the right and far-right
In order to prevent the far-right from gaining even more followers, the government must reduce the unemployment levels, opposition leader Angela Merkel said Saturday in N24 television.
The best method to combat extremism from the left and from the right is a "sensible economic situation," the Christian Democrat Union leader said and pointed out that the chancellor and his government had so far been unable to do this.
Schröder's government and party condemned the comments and deplored the comparison to pre-Nazi Germany. Social Democrat Party leader Franz Münterfering said neither the SPD nor the opposition was responsible for the rise of the far-right.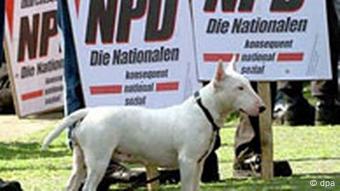 An NPD rally in Essen in 2000
"Only the voters are to blame," he said and added that an inter-party fight over who is to blame for the NPD would only serve to make the Nazis stronger. The democrats in Germany – from all parties – must act together with resolve to show they are committed to opposing right-wing extremism, he said.
The Sonntag-Express warned in its Sunday editorial "it is a dangerous game that the opposition is playing. If democrats like Stoiber start to blame democrats like Schröder for the successes of the NPD, extremists will clap their hands in joy."