Abdelhak Nouri, a 20-year-old Dutch midfielder of Moroccan descent, suddenly collapsed in the 70th minute of a pre-season friendly between Werder Bremen and Ajax Amsterdam in Hippach, Austria on Saturday.
According to Dutch broadcaster NOS, Nouri had to be resuscitated by doctors on the pitch. He was then transported to hospital in a trauma helicopter where he was put into an induced coma.
"Medics and doctors provided first aid," Bremen sporting director Frank Baumann was quoted as saying via the club's twitter account, adding: "Resuscitation attempts were successful."
The match was subsequently called off and the spectators requested to leave the stadium.
In an update on Twitter, Ajax said Nouri is "stable, has a pulse and is asleep."
Werder Bremen, who had been leading the match 2-1, conveyed their best wishes to Nouri, his family and Ajax via Twitter and added that their own players were receiving psychological treatment.
Nouri, who has represented the Dutch national team at all youth levels from under-15 to under-19, is not related to Werder Bremen's coach Alexander Nouri.
'A genetic abnormality'
Since the 19th century, more than 80 otherwise fit and healthy footballers are know to have collapsed and died suddenly while playing. In March 2017, former Newcastle United midfielder Cheick Tiote passed away after suffering a suspected cardiac arrest during a training session with Chinese club Beijing Enterprises.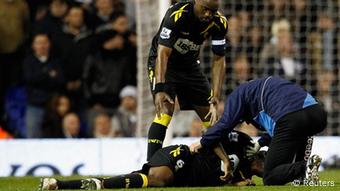 Tottenham's Fabrice Muamba receiving treatment after collapsing in March 2012
In a 2012 piece for British newspaper The Guardian, Dr. Tom Riddington, a cardiologist from the Friarage hospital in Northallerton, England, said that the reason is a condition called "hocum" - or, hypertrophic obstructive cardiomyopathy (HOCM).
In HOCM, "a genetic abnormality causes the muscle wall of the heart to grow far thicker than it should," potentially stopping blood from flowing in and out of the heart.
Earlier that year, Congolese midfielder Fabrice Muamba had suffered a cardiac arrest when playing for English side Tottenham Hotspur in an FA Cup match against Bolton Wanderers. Despite his heart stopping for 78 minutes, he recovered before announcing his retirement from professional football.