The first 30 Volkswagen Beetle cars arrived at the port of Santos in September 1950. Shortly after, they were sold for a price three times as high as expected.
Three years later, the Wolfsburg-based company put down roots in Brazil. On March 23, 1953, the firm Volkswagen do Brazil started out with a workforce of 12, assembling Beetle cars and VW minibuses in a small warehouse in Sao Paulo.
It was the humble beginning of a huge success story. In the ensuing six decades, VW has produced over 20 million cars in Brazil. Today, the nation is VW's second-biggest sales market behind China.
According to a study by the Brazilian Advertising Industry Association (ABA), Volkswagen is the best-known car brand in the country. VW ranks second behind General Motors in terms of employees (24,000) and also in terms of sales, behind Fiat.
First plant abroad
VW's first plant in Sao Paulo would nowadays pass as a CKD (completely knocked down) assembly unit. All parts were imported from Germany and were only assembled in Brazil. BMW and Audi are in the process of building CKD plants in Latin America to dodge big import duties. But back in the 1950s, the situation was different.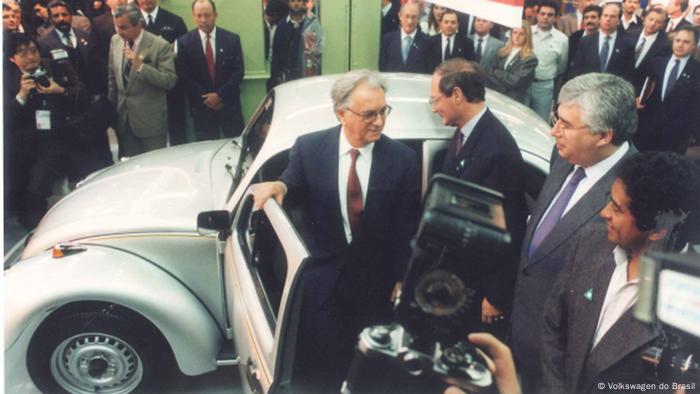 The Brazilian Beetle was given a second chance in the 1990s
It was the time of industrialization in Brazil. Reformist President Juscelino Kubitschek promoted Brasilia as the nation's new capital. He signed off on big road infrastructure projects, also giving a boost to the automotive industry. In 1956, Kubitschek ruled carmakers would have to do without imported parts after a short initial phase of production. In the same year, Volkswagen laid the foundation stone for its first plant abroad, in Sao Bernardo do Campo, a suburb of Sao Paulo.
In line with national regulations, the first VW bus hit the market in September 1957, with half of its components made in Brazil. Two years later, VW built a Beetle that was almost exclusively Brazilian-made.
National heroes
As in Germany, the Beetle soon became a sales hit. More than 3 million units were produced in Brazil. But in 1986, 10 years later than in Germany, VW finally discontinued its Fusca (Beetle) production there.
VW's T2 Bulli survived much longer in Brazil, though. In Germany, the model was replaced by the more angular T3 in 1979. Its Brazilian counterpart, the "Kombi" is still being produced, with more than 1.5 million units coming off the assembly line in 2011 alone. But its days are numbered as production is scheduled to peter out towards the end of 2013. VW do Brazil president Thomas Schmall says the model no longer meets the necessary safety requirements.
Whether the Bulli production will be restarted at a later stage is hard to predict. But the Beetle was again produced between 1993 and 1996 on the initiative of Brazilian President Itamar Franco, a big fan of the Fusco. After failing to live up to expectations, the "New Beetle" was replaced in Brazil by yet another Fusca model in 2011 which looked a lot more like the original Beetle.
Second to none
Despite the success and cult status of the Beetle and Bulli, the Gol beats them all. In 1980, VW do Brazil presented a new compact made for Latin American markets. It looked like a miniature version of the former Passat and found many buyers right from the start.
In 1987 the Gol, meanwhile resembling a little Golf car, became the best-selling vehicle in Brazil. It has kept the top position ever since. With more than 7 million units produced, the Gol is second-to-none in terms of cars built in Brazil.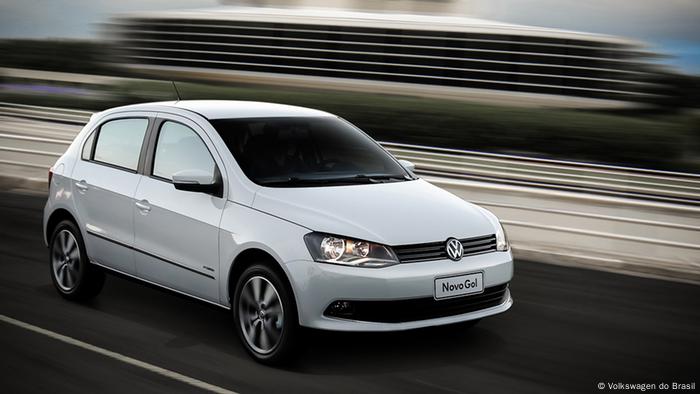 The VW Gol has been a top seller since 1987
A trademark in its own right
The development of its own vehicles has given VW do Brazil kind of an independent brand status, not least because the VW subsidiary has managed to post good export figures. In Iraq for instance, the Passat is called "Brazili" because of the "Made in Brazil" sign on the rear window.
Moreover, Volkswagen do Brazil has proven to be an innovative enterprise. In 2003, it presented a so-called flex-fuel car. It boasts an engine able to run on alcohol, ordinary fuel or any mixture of the two. In Brazil, ethanol has been a replacement for petrol for quite some time, but available engines had been inflexible. Meanwhile, flex-fuel models are promoted by almost every carmaker in the country.
Just how important Brazil is for VW chief executive Martin Winterkorn became obvious when he called the country a cornerstone in the firm's 2018 strategy outlook. It includes VW's resolve to become the world's largest auto producer.
The Brazilian auto market is expected to increase its sales by 45 percent by 2018, to a total of eight million units annually, and VW do Brazil plans to make a large contribution to this growth.