The 12th national congress of Vietnam's Communist Party opened on Thursday morning, which will see the election of a new Central Committee and outline the country's next socio-economic plan.
Held every five years, the closed door session will end on January 28th with the naming of the new general secretary, the prime minister, the president, the chairman of the National Assembly and other top functionaries.
Analysts said that an internal power struggle had been wrapped up before the congress, with current General Secretary Nguyen Phu Trong expected to keep his job for at least half of the next five-year term.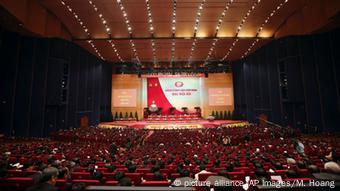 Around 1,500 delegates are participating from all over Vietnam
Tussle for control
Trong's rival, the 66-year-old Prime Minister Nguyen Tan Dung had also vyed for the position but is now expected to retire. But two of Dung's allies are expected to be announced as prime minister and president, according to a leak cited by The Associated Press.
Dung's apparent ouster has caused jitters within Vietnam's business community, as he was credited with economic reforms that have brought a flood of foreign investment over the past decade. But his rivals have accused him of economic mismanagement.
By contrast, Trong is seen as closer to Communist neighbor China, Vietnam's biggest trading partner. The opening of the event has also been overshadowed by Beijing moving an oil rig into waters claimed by Hanoi.
The party congress will also approve a five-year economic roadmap, to help the country build on recent impressive economic growth of nearly seven percent annually, a rate that is one of Asia's strongest.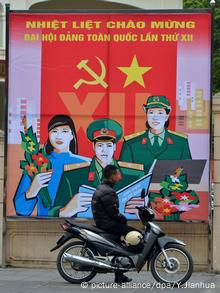 Banners have been hung in Hanoi in preparation for the Communist Party congress
Security was tightened in the capital Hanoi on Thursday as the meeting got underway. More than 5,000 soldiers were deployed along with helicopters and tanks to ensure public order is maintained.
Hanoi smartened
Outside the meeting hall, armed riot police were standing guard. Many streets were closed off and decorated with flowers and red banners proclaiming "Long Live the Glorious Communist Party of Vietnam!"
Vietnam is one of the last remaining communist nations in the world with a party membership of 4.5 million from a total population of 93 million.
Similar to China, the government operates a quasi-free market economy alongside a strictly controlled society.
mm/bw (AFP, AP, dpa)