An extra-parliamentary panel in Berlin on Monday presented the results of two years of round-table negotiations on how to compensate tens of thousands of former children and youths for the systematic wrongdoings they had to endure at the hands of educators in West Germany's children's homes in the 1950s and 1960s.
The panel recommended that victims who suffered torture, maltreatment and humiliation receive compensation from a 120-million-euro ($160 million) fund financed by the German government, federal states and churches.
The payments are to be used for pension funds, for treatment of subsequent damages or as rent assistance.
"Children in children's homes were never able to argue for their rights by themselves," said Antje Vollmer, head of the round-table group of politicians, church representatives and victims. "This is why they are still entitled to financial compensation."
The German Parliament Bundestag and the federal states' parliaments have yet to decide on the round table's proposals, but Georg Gorissen, the representative of the federal government and the western German federal states, said they were in favor of the compensation funds. The Catholic and the Protestant Church announced they would pay their share of the funds.
30,000 could make use of the funds
Twenty million euros are planned for pension payments since a lot of children had to start working at the age of 14, but the children's homes declined to pay into their pension funds. Another 100 million euros should go towards the treating the consequences of the abuse. According to recent investigations, about 30,000 people are eligible for compensation. So far, around 2,500 former victims have come forward.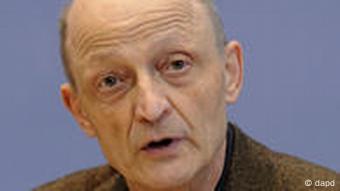 "We didn't achieve all our goals, but we did achieve a lot," said Wiegand
Hans-Siegfried Wiegand, one of the more prominent victims participating in the round table negotiations, said that not all demands had been met. Victims groups had been aiming for a monthly lump-sum payment of 300 euros or a single payment of around 50,000 euros.
"We didn't achieve all of our goals, but we did achieve a lot," Wiegand said.
Compensation is a "farce"
The chairwoman of the association of former children's homes residents, Monika Tschapek-Guentner called the compensation funds a "farce" and dismissed case-to-case examinations.
Tschapek-Guentner is still demanding lump-sum payments to all victims. The 120-million-euro fund is an "outrage," amounting to between just 2,000-4,000 euros for each victim.
"That is really humiliating," she said. "That's an attempt to drop the issue with minimum compensation."
The association advised victims to claim money from the funds. But Tschapek-Guentner is planning to take the case further. "I will go as far as the European Court of Justice," she said.
Another member of the round-table, Juergen Beverfoerden, added that victims had been under a lot of pressure at the talks. "There was the threat that we won't get anything if we don't agree to the final report," he said. Antje Vollmer rebuffed the accusations.
Justice Minister Sabine Leutheusser-Schnarrenberger said that "earmarked funds are an appropriate reaction to individual injustice," but said she also understood that expectations of victims might have been higher.
The head of the Catholic Church in Germany, Robert Zollitsch and his Protestant counterpart, Nikolaus Schneider, both advocated a quick and unbureaucratic establishment of the fund.
Up to 800,000 children lived in German children's homes between 1949 and 1975, run by the government as well as by churches.
Author: Sarah Steffen (epd, AP, KNA, AFP)
Editor: Rob Turner