The Instituto per le Opere di Religione (English: The Institute for Works of Religion), odd though it may seem, is a bank hiding behind that name. It is the financial arm of the Vatican, the seat of the Roman Catholic Church. The history of its predecessor institution dates back to the 19th century, and the bank took on its present form and name in 1942.

Recent decades have seen repeated rumors of the bank being caught up in dirty dealings, and a new low point has come with the resignation of its head, Ettore Gotti Tedeschi.

Despite repeated disciplinary measures, Tedeschi (ironically, the name means 'the German') "has not completed certain tasks of eminent importance," the Vatican said but did not provide further details.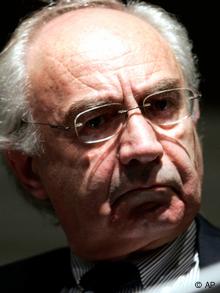 Gotti Tedeschi was asked to step down by the bank's board
Now, speculation is running high about what the real grounds for his dismissal could be. Some Italian media sources suspect a connection to classified documents leaked to the media by the Pope's butler, which include details on Vatican finances. Earlier investigations into Tedeschi's potential violation of anti-money laundering standards could also have played a role, although those investigations were later halted.

Among the world's "least transparent"

"It's a very peculiar bank. A bank that manages billions, including real estate," said Wolfgang Gehrke, a banking expert and head of the Bavarian Finance Center, in an interview with DW.

"It's a bank that is active in financial markets on the Vatican's behalf and that has set itself apart as one of the least transparent banks in the world. So, of course, when someone is being so untransparent, he also has to cope with every possible kind of rumor," Gehrke added.

Italian investigative journalist Gianluigi Nuzzi has also looked into the Vatican bank's financial dealings. His book on the subject argues that the bank has been involved in exercising undue political influence, in money laundering and even murders and mafia affairs. Nuzzi's research suggests that ex-prime minister Giulio Andreotti, who is alleged to have had mafia ties, also had a secret account at the Vatican's bank - with transactions totalling more than 60 million euros ($75 million).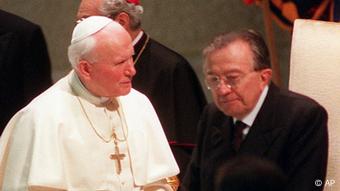 Giulio Andreotti may have had a secret Vatican bank account
Cleaning up too thoroughly?

"Out of esteem for the Pope," Ettore Gotti Tedeschi, who has thus far enjoyed a reputation as a competent and morally upright banker, has said he will not respond to rebukes by the Vatican's board of directors.

"It's better that I remain silent, otherwise I would say ugly things," he told the Italian news agency Ansa. Having previously worked for Spain's Santander Bank, Tedeschi was named head of the Vatican's bank in 2009 to help straighten out the institution's affairs. It can also be speculated as to whether he did a bit too much cleaning up and became an uncomfortable, or even dangerous presence along the way.

"The financial machinations of the Vatican that I discuss in my book took place before the current Pope's term. However, there is a similarity between all representatives of the Catholic Church, which Pope Benedict XVI also shares: A mantle of silence is spread over everything. And along with it can come blackmail, corruption and money laundering," said author Nuzzi two years ago to the Hilpoltsteiner German daily.

But the Vatican's current head has taken steps in the direction of reform, says bank expert Gehrke.

"The Pope has made sure that the bank is ready - which used not to be the case - to subject itself to European standards on transparency. But that seems not to be working out entirely. None of us knows exactly how things take place in this bank and whether money laundering did in fact take place there," Gehrke explained.
The Vatican's bank is housed within this building
Among the few with insight into those questions are the bank's board of directors as well as the now expelled Ettore Gotti Tedeschi. Gehkre notes that the board contains Curia members, "who absolutely have experience in capital markets."

"Vatileaks" suspect arrested

A suspect has been taken into custody following revelations made in documents leaked to the media. Internet portal ilfoglio.it and news agency Ansa report that one of the Pope's butlers, who has worked at the Vatican since 2006, made the classified information available. The investigation is being led by the Vatican's Gendarmerie police force.

It is safe to assume that the Vatican will do all it can to prevent further internal documents from getting into the media's hands - as they did when Renato Dardozzi (1922-2003), one of Pope John Paul II's closest colleagues, led the inheritors of his estate to publish information he had collected regarding the Vatican's financial affairs. In turn, the information Dardozzi gathered formed the basis for Gianluigi's book on the Vatican and its financial dealings.

Author: Tobias Oelmaier / gsw
Editor: Gregg Benzow