President of the European Council Herman van Rompuy warned against protectionism, nationalism and euroskepticism in the first annual "Europe Address" in Berlin on Tuesday.
The speech, organized by three German policy institutes, is meant to to measure progress in European integration and is to take place every year on November 9, the anniversary of the fall of the Berlin Wall.
Van Rompuy defended proposals to the eurozone's Stability and Growth Pact, which would simplify and expedite sanctions against members who exceed budget deficit limits in order to "to substantially increase fiscal responsibility and penalize irresponsibility."
"In the true spirit of the Lisbon Treaty, all institutions and member states have worked together to achieve this," he said, referring to the year-old structural reform of the EU that created his post and which would have to be amended to implement the reforms.
European tax not a priority
He also dismissed the importance of reforming how the European Union gets its revenue - mostly contributions from member states.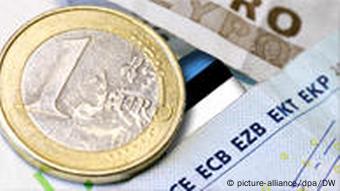 Germany and France reject the idea of a European-wide tax
The European Commission last month proposed a Europe-wide tax, which the bloc's two largest economies Germany and France oppose.
"I am personally open to new ideas, but since most alternative sources of income would risk hitting member states unequally, this would weaken the fairness of the current system, its built-in solidarity," he said. "So let's be prudent, but let's discuss it."
EU expansion
Van Rompuy also focused on European unification, which he said was "not just a bureaucratic process from Brussels," but rather a concrete validation of the idea that Europeans "belong together."
Nationalism represents a threat to the continent, as it no longer creates "a positive feeling of pride of one's own identity, but a negative feeling of apprehension of the others." Belgium, where van Rompuy's served as prime minister before assuming his current position, faces its own nationalist crisis, as the failure of Flemish nationalists and French-speaking parties' to reach a compromise has left the country without an elected government since June.
Ultimately European states must rely on each other to face the challenges of the future, van Rompuy said.
"In every member state, there are people who believe their country can survive alone in the globalized world," he said. "It is more than an illusion: It is a lie."
Author: Andrew Bowen
Editor: Rob Turner