Polish Foreign Minister Radoslaw Sikorski was travelling to Washington on Monday, July 7 to try and elicit guarantees of US military protection for his country.
Poland has demanded billions of dollars in US investment to upgrade its air defenses, including Patriot ground-to-air missiles.
Sikorski will meet with US Secretary of State Condoleezza Rice. He will also meet Republican presidential candidate John McCain and speak to Democratic hopeful Barack Obama by phone, foreign ministry spokesman Piotr Paszkowski told AFP news agency.
"I think we've got a signal from the American side that they are ready to negotiate," Paszkowski told TVN 24.
Poland reluctant to commit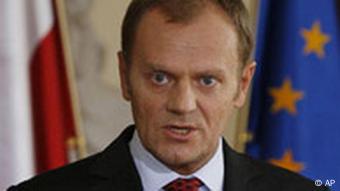 Prime Minister Tusk said no deal has been made
Washington has been concerned that Poland is getting cold feet on plans to station 10 missiles there to ward off potential attacks by "rogue" states such as Iran. The missiles are part of a defense shield that will also include a radar facility in neighboring Czech Republic.
Discussions on the missile shield have been dragging on since May 2007. The Czech government agreed to house the radar base three months ago, but it still has to be ratified by parliament.
"We haven't rejected anything. The proof is that talks are continuing. We want to continue this to a happy conclusion. It's about reinforcing our security. We need to consider our interests," Sikorski was quoted as saying by Poland's PAP news agency.
Warsaw wants defense system
Polish Prime Minister Donald Tusk's government has been lobbying Washington to provide a THAAD, or Patriot-type air defense system in exchange for hosting the silos.
Tusk said a guarantee from Washington is all that is missing to move the deal forward.
"We can agree anytime, tomorrow, in a week, in a month, as long as we have real guarantees for our security," he said.
The US had earlier announced that a "tentative agreement" had been reached, but Poland's Defense Minister Bogdan Klich later said that there was no deal.
Russia remains opposed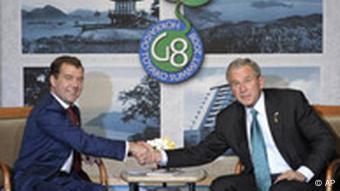 They have agreed to disagree on the issue
Russia has express displeasure with the idea of having a US missile shield next door. In recent months, the Kremlin has softened its rhetoric and has focused instead on getting security guarantees.
But Russia's new president, Medvedev, laid out his opposition to the idea in a meeting with US President George W. Bush. The two leaders held talks on the side of the Group of Eight (G8) meeting being held in Japan.
"There are certain questions on our agenda where we agree, and these are the matters pertaining to Iran, North Korea," Medvedev said. "But then certainly there are others with respect to European affairs and missile defense where we have differences."
Medvedev, who frequently referred to the US president as "George," said he would seek to intensify dialogue with the US during the remaining six months of the Bush administration. Bush signalled that he could do business with the new Russian president, whom he described as someone who could be trusted.
"While there's some areas of disagreement, there's also areas where I know we can work together for the common good," Bush said.