James 'Whitey' Bulger was found dead on Tuesday morning a day after being transferred to high-security Hazelton penitentiary in West Virginia, the Federal Bureau of Prisons said. There was no initial statement on how he died, but prisons service did say that the FBI was investigating.
Bulger was 89 and serving a sentence of life in prison. US media, including the Boston Globe, reported that a fellow inmate with mafia ties was being investigated in connection with his death.
Notoriety
Bulger led the notorious Winter Hill Gang, a largely Irish-American mob that operated loan-sharking, gambling and drug rackets in Boston. He killed or arranged the murder of about 20 people between 1973 and 1985, according to federal authorities. His criminal enterprises reportedly earned him upward of $30 million (€25 million).
Early life
Bulger, the son of impoverished Irish immigrants, grew up in South Boston. Local police nicknamed Bulger "Whitey" — a name he was said to hate — because of his blond hair.
Bulger enlisted in the US Air Force in the 1940s but left in 1952 after reportedly going AWOL.
He subsequently served nine years in various prisons, including the federal penitentiaries in Atlanta, Alcatraz in San Francisco and at Leavenworth, Kansas before being paroled in 1965 and returning to a life of crime.
FBI and on the run
Bulger infiltrated government agencies, including the FBI and a federal agent in December 1994 tipped him off that the Department of Justice planned to arrest him for murder, extortion, racketeering, money laundering and other crimes.
Bulger fled Boston on December 23, 1994. Aside from a sighting in London's Piccadilly Circus in September 2002, his, and his partner Catherine Greig, whereabouts remained a mystery for the next 16 years.
Arrest
After 16 years on the run, Bulger was captured aged 81 in Santa Monica, California in 2011. Authorities said they found fake IDs, a cache of weapons and $800,000 (around €700,000 at today's exchange rate) in cash.
Conviction
After a two-month trial, during which prosecutors called him one of the "most violent and despicable criminals in Boston history," a federal jury convicted Bulger in 2013 of multiple firearms and racketeering charges and found him complicit in 11 killings. Three months later, he was sentenced to two consecutive life sentences.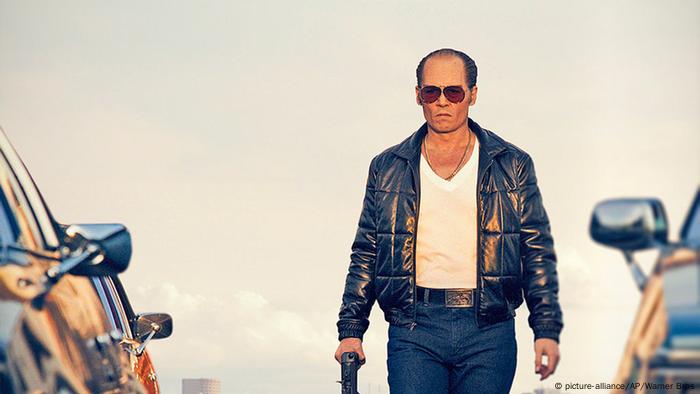 Johnny Depp als Whitey Bulger in the film "Black Mass" )Warner Bros. Entertainment via AP)
In prison, on film
His life was chronicled in the book "Black Mass," which was adapted into a 2015 film starring Johnny Depp as the mobster.
His younger brother William M. Bulger was the longest-serving president of the Massachusetts state Senate. According to The New York Times, he was forced to resign as the president of the University of Massachusetts after refusing to testify at a congressional hearing about his brother's activities.
jbh/msh (Reuters, AP)
Each evening at 1830 UTC, DW's editors send out a selection of the day's hard news and quality feature journalism. You can sign up to receive it directly here.