The American Chamber of Commerce in Germany (AmCham Germany) annually polls US investors on their views of the current situation and prospects with regard to Germany as a business location. The 58 firms that contributed to the "10th AmCham Business Barometer" generate revenues of some 95 billion euros ($123 billion) annually in Germany ad employ some 240,000 people.
US firms operating in Germany reported an optimistic outlook for the current year, after an average 2012. "The really positive thing about the barometer is that US investors do not only believe in a favorable development in Germany, but adapt their business plans and strategies accordingly," said AmCham Germany Vice-President Bernhard Mattes. "There's confidence that business operations can be expanded in Germany."
Germany resting on its laurels?
Two thirds of the companies polled expect their revenues to increase, and more than a third are considering fresh investments and hiring. Mattes said companies are impressed with the strength of Germany as a business location.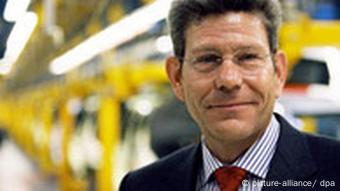 Bernhard Mattes is also head of Ford Germany
But the long-term perspective doesn't seem to be as rosy. Obviously, US investors are wary of what they think is a widespread self-complacency of Europe's largest economy. That's also reflected in many individual talks entrepreneurs conducted by the Roland Berger consulting firm who compiled the study on behalf of AmCham.
"Investors say Germany is successful, but the country is resting a bit at the moment," said the consulting firm's Klaus Fuest.
He argued that Germany had weathered the crisis well and added the country could in a way be called a crisis winner. Fuest added that Germany had a strong industrial base and was the reigning world export champion. "All of that is wonderful, but little is moving right now and we're heading towards the very trap we fell into in the late 1990s," Fuest said.
More education, less red tape
Some 85 percent of the respondents said they thought reform pressure on Germany is high as the country aims to keep abreast of international competitors. In the eyes of Bernhard Mattes, the state and the economy have to be developed further. He said it's impossible to start reforms today and complete them tomorrow. Instead he called reforms a process.
High on the list of demands are better schools in a more centralized education system. Upon finishing secondary school, the study said, many young people are not prepared for vocational training and jobs. Moreover, training periods are so long that what trainees learned at the beginning is often forgotten or even outdated by the time they start a job. US investors also criticized the degree of red tape in Germany and said they wanted to see more highly skilled foreign migrants to ease the already tangible lack of highly qualified labor.
Frightening energy costs
But American investors were also concerned about rising energy prices in Germany. Mattes said some energy-intensive companies are reconsidering Germany as a business location.
"There are signs that US companies are increasingly reluctant to make fresh investments here and think of moving somewhere else," Mattes said. "That's a dangerous development and something needs to be done against it."
Mattes added that from the US point of view, Germany was only a part of their European locations. He said national borders were of no concern when it comes to picking a nation for investments, be that Germany, France, Italy or any other European nation. He concluded that what really matters are the conditions on the ground at the various locations.