Following months of political turmoil, Ukraine's Prime Minister Arseniy Yatsenyuk on Sunday announced in a televised address that he would resign on Tuesday.
Yatsenyuk survived a no-confidence motion in his pro-EU government on February 16, but two parties quit the governing coalition, taking away the coalition's majority in parliament.
The vote came after President Petro Poroshenko asked Yatsenyuk to step aside. The prime minister's public approval ratings have plunged to single digits.
Yatsenyuk said Poroschenko's political bloc would nominate parliamentary speaker Volodymyr Groysman to be the next prime minister.
The prime minister said his goals in government now would focus on passing a new electoral law, constitutional reform, judicial reform and advancing Ukraine's Euro-Atlantic pathway.
Yatsenyuk became prime minister in 2014, shortly after protests in Ukraine succeeded in ousting former President Viktor Yanukovych.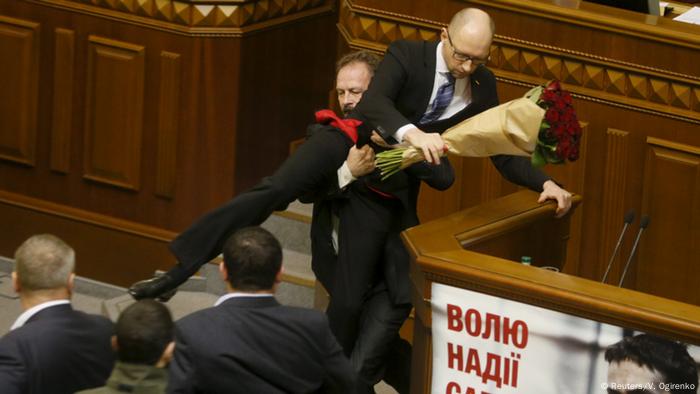 Yatsenyuk was carried off the tribune in parliament in one of several brawls to occur in the chamber.
But the hopes born out of the pro-EU Maidan protests have been shattered by war with pro-Russian separatists in the east and economic suffering.
The Ukrainian government has failed to battle endemic corruption, cronyism and powerful oligarchs, causing both the public and the country's Western backers to loose faith in the government.
Europe and the United States have called for sweeping reforms for the country to receive much needed international financial aid.
If parliament fails to form a new coalition government and agree on a prime minister the country could head to early elections, something both Poroshenko and Ukraine's Western backers have sought to avoid amid concern it would slow down reforms and lead to further instability.
cw/jlw (AFP, AP, dpa, Reuters)