UEFA fined the Croatian soccer association 80,000 euros on Tuesday "for the setting-off and throwing of fireworks, and the improper conduct of supporters (racist chants, racist symbols) at the UEFA Euro 2012 Group C match against Italy," at last Thursday's Group C match in Poznan, Poland, European soccer's governing body said in a statement.
"It is certainly a drastic fine for us. Unfortunately, the behavior of a tiny group of people immensely tarnishes our reputation and inflicts huge financial damage," the secretary-general of the Croatian Soccer Association (HNS), Zorislav Srebric, told the Reuters news agency.
The fine levied on Croatia was the first for a racism offense in Euro 2012. There have also been claims that Spanish fans racially abused Balotelli, who is of Ghanaian origin, and that Russian fans taunted the Ethiopian-Czech Theodor Gebre Selassie.
Croatia, which was eliminated from EURO 2012 in the group stages, has been fined twice in the last four years for the racist behavior of their fans.
Dutch players also alleged they heard monkey noises during a public training session in Krakow, southern Poland, although no official complaint was made and the local authorities denied the claim.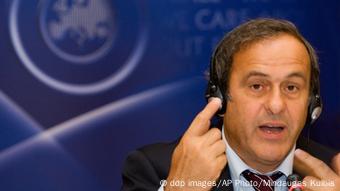 Platini says UEFA has a "zero tolerance" approach to racism
Germany charged
The German Football Association (DFB) is also under investigation by UEFA and has been "charged with the setting-off of fireworks and the improper conduct of supporters (display of inappropriate banners and symbols, and inappropriate chanting)."
The Football Against Racism in Europe (FARE) fans' network, which UEFA appointed to help combat racism, as well as offensive flags, chants and behavior in Euro 2012 stadiums, had alerted UEFA.
"FARE can confirm that one of our observers reported a neo-Nazi banner in the German section at the match against Denmark in Lviv on Sunday," the group said in a statement.
It is the second probe against the DFB, which was fined 10,000 euros last week by UEFA after fans threw paper balls onto the pitch during the first group game against Portugal.
UEFA President Michel Platini has repeatedly said that there is a "zero tolerance" approach to any racism and football-related violence during EURO 2012 and other tournaments and matches.
Croatia's fine is 20,000 less than the one UEFA disciplinary panel ordered Denmark forward Nicklas Bendtner to pay one day earlier for revealing a sponsor's name on his underpants, leading some commentators, especially on Twitter, to say that UEFA's priorities were skewed.
On Tuesday evening, England beat Ukraine 1-0 to go through to the knockout stages. Sweden beat France 2-0 in their last group match, but failed to go through to the next round.
ng/tm (Reuters, dpa, AFP)