Prime Minister Recep Tayyip Erdogan has come under sharp criticism for calling on Turks who refuse to accept former Islamist Abdullah Gül's presidency to leave the country. The Turkish parliament on Tuesday elected the current Foreign Minister as the country's next president. Gül had failed in an attempt to win the presidency earlier this year.
"Those (Turks) who do not recognize Abdullah Gül as their president should give up their Turkish citizenship," Erdogan said in an interview with television station Kanal D.
Erdogan was commenting on an article by the prominent columnist Bekir Coskun from Turkey's largest daily Hürriyet. Coskun had written that Gül's presidency would mean the end of the secular state in Turkey -- a fear shared by the country's secular elite.
"Gül will not be my president," Coskun wrote last week. Erdogan's ruling Justice and Development Party (AKP) nominated Gül for the presidency.
Government terror?
After the AKP victory in general elections on July 22, Erdogan had promised to be "everyone's prime minister." Many observers had hoped he would embrace the highly polarized society as a whole.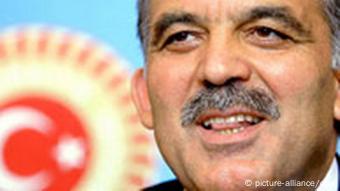 Turkey's Foreign Minister Abdullah Gül will become the country's next president
Yet according to Yüksel Isik from the Progressive Journalists Association, the prime minister's statement showed that press freedom was still a major challenge in Turkey.
"The prime minister is taking an exclusionary stance against a prominent journalist, Bekir Coskun, as if he is 'the other'," Isik said. "If local governors follow the prime minister's behavior and try to pressure journalists in local regions, this would mean the total terrorization of Turkey by this government."
In a separate move, the mass circulation Hürriyet fired columnist Emin Cölasan last week, who is known for his highly critical articles on the AKP-led government. According to Isik, these events showed that the problem of press freedom was more serious than it appeared.
"Many of our journalist colleagues have been fired without any just cause, only for their criticism of governmental policies," Isik said.
Harming Turkey's EU ambitions?
Lucio Leante has been working in Turkey since 2001 for the Italian ANSA news agency. He said he thinks that critical journalists such as Cölasan are fired because of intricate relations between media owners and the government.
The interests of Hürriyet publisher the Dogan group with the government could have influenced the paper's management to fire Cölasan, Leante said.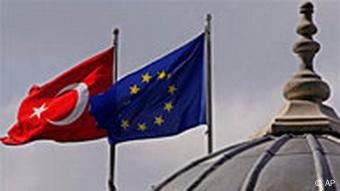 Turkey's position towards the press does not conform to EU standards
"We can't prove it, but the Dogan group's many businesses and links with the state is limiting freedom of press," Leante said.
Leante added that Erdogan's inability to endure criticism played an important role in stifling the press. Yet despite the prime minister's harsh attitude toward journalists, cartoon artists and publishers, there was still support for him and his party for Turkey's ambitions to join the European Union. According to Leante, Western nations were putting Turkey to the test.
"I think Turkey is going on an experiment in which international circles want to see if a moderate Islamic conservative party like the AKP can be permanently moderate and democratic," Leante said.
He said that some western countries believed this "experiment" could serve as a kind of model for other countries in the Middle East. But he said he thought this was risky.
"Political Islam is a contradiction in itself," Leante said. "It is difficult for Islam to prove itself democratic and moderate because political Islam means extending religion to state problems."
For Turkey's journalists, the big question now is whether the Islamist-rooted AKP will use its majority power to continue criticizing the press or to open itself up to different views.