The planned Istanbul canal would link the Black Sea and the Sea of Marmara by cutting a 45-kilometer (28-mile) route through Turkey's largest city, transportation minister Ahmet Arslan told reporters in Ankara on Monday.
"We aim at starting construction this year by finalizing the tender process," he said.
According to the planned route, the canal construction would start in Istanbul's coastal district of Kucukcekmece, which is on Lake Buyukcekmece. The lake is connected to the Sea of Marmara. It would then proceed to the Sazlidere Dam north of the city and joined the Black Sea north of the town of Durusu.
Read more: Turkey opens new bridge over the Bosporus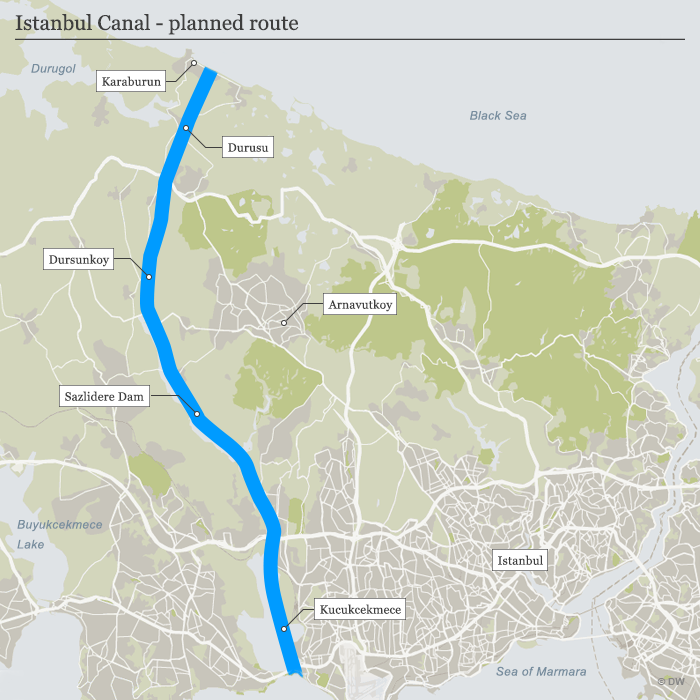 Istanbul already boasts the Bosporus strait, one of the busiest waterways in the world. The new canal would reduce congestion on the route, reportedly used by almost 50,000 vessels every year.
"The aim is to reduce the risks that can arise from vessels in the Bosporus carrying dangerous materials," Arslan told a televised news conference.
"Another aim is to create an urban transformation for our citizens in this area... and also to increase the attractiveness of Istanbul as a global metropolis."
New airport close to planned route
The megaproject would also feature three underwater tunnels to be used for road traffic.
The minister refused to say how much the project would cost and how long it would take to complete. However, the private NTV broadcaster reported that building the canal would take $17.3 billion (€14.1 billion) and be completed in five years.
The report follows a 2011 statement by then-Prime Minister Recep Tayyip Erdogan, who promised the canal would be finalized by 2023. Erdogan, whose previous positions include serving as the mayor of Istanbul, once affectionately referred to the canal as one of his "crazy" projects.
Among those projects is the new airport in Istanbul, set to be opened later in 2018. The proposed canal route passes close to the nearly completed airport, which Turkish authorities claim to be the largest in the world.
dj/kms (dpa, AP, AFP)