The ruling Justice and Development Party (AKP) says new legal reforms are essential for bringing the country's political system in line with the criteria for joining the European Union. But Turkey's secularists see the changes as part of an AKP plan to move the country closer to Islamic fundamentalism.
Senior judges have been quick to respond to the plans, calling the proposed reforms unconstitutional and accusing the government of using liberal reform ideas as a cover for the encroachment of religious rule.
The chief justice of the Supreme Court of Appeals Hasan Gerceker told Turkey's NTV television news network that "the government should avoid actions that could damage the principles of separation of powers and independence of the judiciary."
Another judge, Kadir Ozbek, head of the Supreme Board of Judges and prosecutors, which appoints senior members of the courts, said the government wanted to change both the composition of the Supreme Board and the way judges were appointed.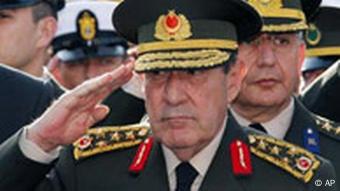 Turkey's military is feeling the heat from the AKP
The AKP narrowly survived a court attempt in 2008 to close it down on the grounds that it contravened the country's secular constitution.
The AKP also wants to make it harder to ban political parties and curb the influence of the military, a bastion of Turkish secularism.
The government has begun lobbying opposition parties for support and has warned that it could hold a referendum to push through reforms if it cannot muster the two-thirds majority needed for parliamentary approval of constitutional changes.
The AKP dominates parliament, but its majority falls short of the 376 votes necessary for unilaterally amending the constitution.
gb/AFP/Reuters/AP
Editor: Ben Knight