Turkey currently has no interest in buying tanks from the German military, Gül told the German business daily Handelsblatt at the start of his two-day visit to Berlin. He added that he was surprised that the issue had even become a topic in the media.
Last week, the German media began reporting that Turkey was interested in buying several hundred Leopard 2 tanks no longer needed by the German military.
While in Berlin, Gül is meeting with his German counterpart, Joschka Fischer, among others. Referring to Turkey's negotiations to start accession talks with the European Union, Gül admitted that his country still had some problems to solve.
"No country is perfect," Gül told Handelsblatt. "The important thing is that we're trying to solve our problems."
German support for Turkey
On Sunday, Gül praised Germany as a staunch supporter of Turkey's efforts to join the EU and expressed confidence that Berlin would help in overcoming French objections to his country's accession bid.
"Germany is among the countries who are the biggest supporters of Turkey," Gül told reporters. "Naturally this issue is being discussed between Germany and France as well, and Germany is helping Turkey."
Gül said that Ankara was watching with understanding the debate in France over whether the vast Muslim nation should be allowed into the EU, but warned: "Turkey should not be subjected to injustices. It is not possible for us to accept that."
Gül's trip to Germany is the first in a series of visits that Turkish leaders will make to European capitals to drum up support for their country in the run-up to a crucial Dec. 17 decision by EU leaders on whether to start accession talks with Turkey.
The European Commission, the EU's executive branch, said earlier this month that Turkey had fulfilled the required democracy norms and recommended the start of talks.
While Germany's center-left government is united in its support for Turkey, the French leadership is split and public opinion is largely hostile.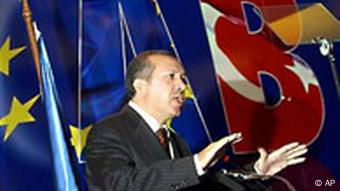 Turkish Prime Minister Recep Tayyip Erdogan
Turkish Prime Minister Recep Tayyip Erdogan (photo) will discuss the issue with German Chancellor Gerhard Schröder and French President Jacques Chirac in three-way talks in Berlin on Oct. 26.
Countering discrimination
Gül said that in his meeting with Fischer he would also raise Turkish concerns over several points in the Commission report which Ankara considers discriminatory.
The Commission said the start of accession talks with Turkey would not amount to a guarantee that it would one day join the EU and mentioned the possibility of imposing permanent safeguards against the free movement of Turkish nationals in the bloc.
In Berlin Gül will also meet with Christian Democrat opposition leader Angela Merkel, who is advocating a "privileged relationship" with Turkey rather than full EU membership.
Gül welcomed the fact that the CDU has now dropped plans to start a petition action to collect signatures from those who oppose Turkey's EU membership bid.