Turkish police said on Monday they had detained dozens of people suspected of having connections with the US-based cleric. According to the state-run Anatolu news agency, prosecutors issued warrants for 140 people, with 101 being arrested for allegedly being members of a "terror group" and providing funds for the Gulen movement.
Those detained included 41 executives and employees of Bank Asya, founded by followers of Gulen. The bank was seized by the government last year under a probe centered on monetary support of about 50 million lira ($17 million) for Gulen's group, which includes media companies, businesses and schools.
Over 2,260 people were rounded up in the operations which took place in 48 Turkish provinces over the weekend, pro-government newspaper Milliyet said.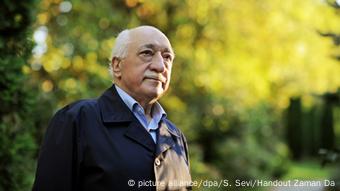 Fethullah Gulen, who has been living in the US since 1999, was a former ally of Erdogan
Gulen and Turkish President Recep Tayyip Erdogan were allies until state lawyers and police officers considered close to the US-based cleric launched an anti-corruption probe against the Turkish president in 2013.
Subsequently, thousands of police officers, prosecutors and judges were sacked or reassigned for alleged links with the US-based cleric, whom Erdogan accused of setting up a "parallel state." Gulen was also suspected of unseating the government with his links in the police, judiciary and media. His moderate Islamic movement was also branded a "terrorist organization" and all newspapers, television stations and business associated with him were closed down. He denies all charges.
In December 2014, a Turkish court issued an arrest warrant against Gulen, who has been living in the US since 1999.
mg/jil (AP, Reuters)