The trial of a 57-year-old German business man accused of attempting to ship aluminum tubes to North Korea began on Wednesday in the southwestern German city of Stuttgart. The man, identified as Hans-Werner Truppel, the head of German company Optronic, is charged with trying to ship 214 tubes that prosecutors say were destined for the Stalinist country's nuclear weapons program.
The tubes were intercepted on a French freighter at the Egyptian port of Damietta en route to North Korea in April after French authorities received intelligence from the German secret service.
Truppel is charged with breaching German arms export regulations along with two employees of a Hamburg-based shipping firm who sought to conceal the shipment by declaring that the tubes were for the Chinese aeronautics industry.
Entrapment claims dismissed by court
Lawyers for the prosecution have dismissed these claims as implausible and a pretext to get around the laws banning arms exports. On the defense side, Truppel's lawyers wanted the trial stopped, accusing the German authorities of entrapment. They argued that the Hamburg company was given initial approval for the shipment only to run into trouble with the authorities later. The court immediately dismissed the claim as unfounded.
The case has already taken another dramatic turn after a report appeared in the German news magazine Der Spiegel claiming that a high-ranking North Korean diplomat, Yun Ho Jin, made contact with Optronic in the 1980's. Jin was Pyongyang's representative at the Vienna-based International Atomic Energy Agency (IAEA) at the time.
Accused faces 15-years in jail
Experts from the IAEA, the German Foreign Ministry and the German Federal Intelligence Service are expected to testify at the trial. A verdict is expected on Dec. 17. If found guilty, Truppel could face up to 15 years in prison for the sale of the tubes.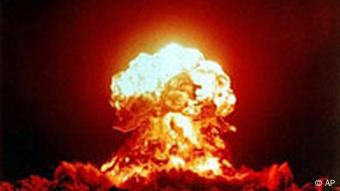 German-made aluminum tubes are in high demand around the world. They are especially popular with countries pursuing nuclear weapons programs due to the fact the tubes are an integral component in high-precision equipment used in the enriching of uranium – a basic ingredient of nuclear bombs. It is believed that the apprehended tubes were heading for a facility where they were to be used in the building of gas ultra-centrifuges used in the process of enrichment.
Tubes could have greatly boosted nuke production
Nuclear weapons experts say the gas ultra-centrifuges to be built with the tubes could have produced about 10 kilograms of enriched uranium within two years. North Korea said recently it had already produced enough weapons-grade plutonium for six atomic bombs by reprocessing spent nuclear fuel rods.