Christmas is over, and with it most families' urge to buy toys for their kids. But the German toy industry is booming nevertheless. More than 50 firms from 62 nations are currently exhibiting some one million products at the world's largest toy fair in Nuremberg, southern Germany. Among those products are 70,000 novelties: model railroads and other technical toys, but also books and board games, all the way to dolls and soft animals.
German sector growth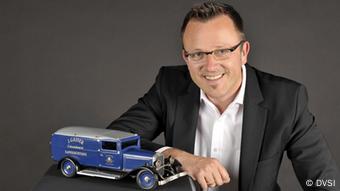 Ulrich Brobeil sees the German toy industry well positioned for future growth
"The situation in the toy sector has been very good and stable for quite some years now," says the head of the German Toy Industry Association, Ulrich Brobeil. "We had a couple of rather meager years, but over the past three years the classical toy industry in Germany has been faring well."
He notes that even in the crisis year of 2009, the sector logged 4 percent growth. Last year, growth stood at 3 percent, with revenues hitting the 2.7-billion-euro ($3.65-billion) mark for the first time. "We assume that additional growth is possible also in the years ahead," Brobeil comments, adding that German toy producers were much better off than those in other European countries, particularly Spain.
Extended workbench China more expensive
So far, German toy producers have mastered the euro crisis well. But changing conditions in China, where most toys are produced, represent an added challenge. "It's simply become harder to recruit workers," says Brobeil, arguing that this has driven up wages. In addition, costs for raw materials and transportation have been rising, and so has the value of China's currency, he remarks: "There are many factors that haven't made things easier for us lately."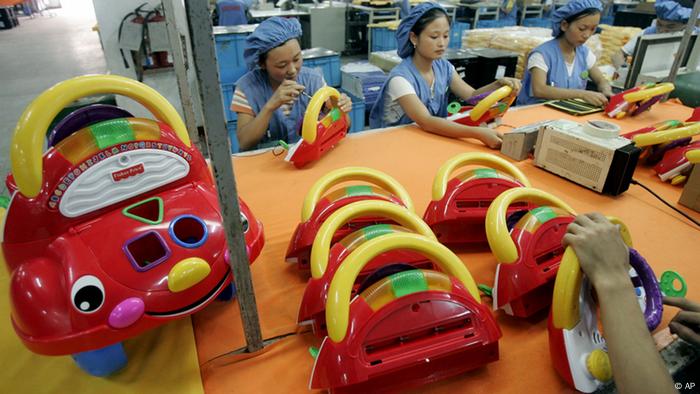 China has been a major producer of toys, also on behalf of German firms
A couple of years ago, some 70 percent of all toys sold in Germany were manufactured in China, but now it's only about 60 percent, Brobeil estimates. "We are witnessing a certain relocation of the production cycle." But that means it's back to Europe and eastern Europe in particular, not necessarily back to Germany, he says.
Demographic dilemma: fewer children
In the face of demographic developments in Germany and other industrialized nations, one might be inclined to think that the days of toy sector growth are limited. But Brobeil disagrees, arguing that while fewer children may be born in Germany, they tend to have many more toys. "Demography also tells us that there are more grandparents around and thus more people who have the money to give presents." Even rising divorce rates are a positive thing for the toy industry, because in patchwork families there's usually fierce competition over who gives more presents.
And, yes, more and more adults buy toys for themselves. Right now, over 20 percent of all toys purchased in Germany are bought by grown-ups. And, according to Brobeil, many fathers tend to play with model railroads or remotely controlled vehicles and other toy stuff they used to dream of in their childhood years.
Digital and classical toys go hand in hand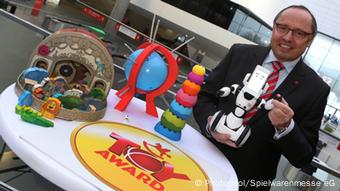 Ernst Kick claims demographic changes won't harm the toy sector
But the electronic toys that are being exhibited at the Nuremberg Toy Fair are not just for fathers. The kids too have taken a liking to new media gadgets. "It's primarily via smartphone and tablet technology that a new generation of players has entered the scene," says Ernst Kick, CEO of the toy fair.
Producers also have the very young in mind - for instance with baby rattles that can hold mobile phones. If the baby touches the picture on the display, a digital voice announces the name of the body part that was touched.
So, are classical games on their way out then? "No," says Kick, "our classics are here to stay, even the ones that have been around for 30 or 40 years," claims Kick. "But they'll be enriched more and more with electronic components which will open up new and more intelligent gaming worlds and will simply entail a higher degree of entertainment."
Moreover, smartphones and tablets will increasingly become an interactive element in the toys. For example, Ferby, a soft animal which was popular with children in the 1990s, is now celebrating its resurrection. The Ferby of today is able to talk, dance, wiggle its ears and even eat roast chicken via a smartphone app. Depending on how well or bad the animal is treated by its owner, it develops a character of its own, gets grumpier or cuddlier with time.