World champion Peter Sagan has been disqualified from the 2017 Tour de France after a horrific crash at the finish line on stage four which resulted in Britain's Mark Cavendish being taken to hospital.
It followed an earlier pile-up toward the end of Tuesday's stage. With 1,500 meters to go, the first crash saw Team Sky's Geraint Thomas in the yellow jersey go down with most of the Quick-Step team. Thomas had warned on Monday that he was just looking to stay safe, while the pile-up also put Germany's Marcel Kittel out of contention.
Then, just before the finish line, world champion Peter Sagan appeared to knock Mark Cavendish with an extended elbow has he came out of the saddle to overtake. TV replays suggested a clash of wheels may have sent the Dimension Data rider flying into the barriers but Sagan's arm was suspiciously extended and the race jury concluded that the Slovak's actions "seriously endangered the other riders."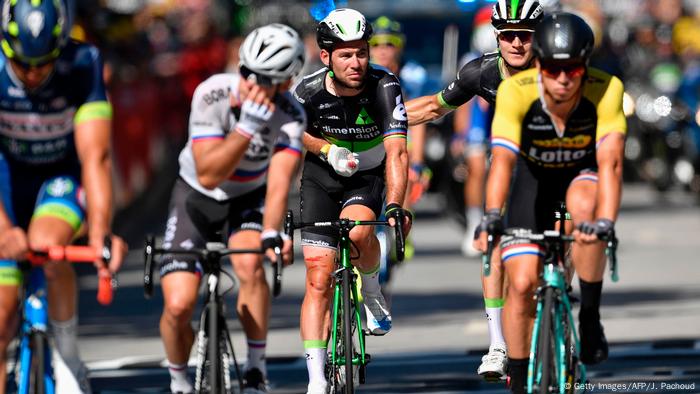 A bloodied Mark Cavendish is helped across the line
Injured Cavendish withdraws from Tour
The crash saw Cavendish forced to pull out of the Tour de France with a broken shoulder blade.
The Dimension Data team issued a one-line statement on its Twitter feed Tuesday evening, saying "Unfortunately, @MarkCavendish has been forced to withdraw from #TDF2017."
A bloodied Cavendish eventually crossed the line with a bandaged hand and his arm held in tight to his chest. At the time Cavendish told reporters that he was "not optimistic" about his prospects of continuing in the Tour.
Cavendish also admitted he enjoys a good relationship with Sagan but demanded an explanation. "I'm not a fan of him putting his elbow in like that," he said. "I get on with Peter and a crash is a crash, but I'd just like to know about the elbow."
German sprinter Andre Greipel finished third and had strong words for Sagan. "He wears the world champion's jersey and thinks he can do what he wants," he said of the Slovak, who had already annoyed some of the other riders in Monday's stage three intermediate sprint.
"If I was Sagan, I'd apologize for that," said Roger Hammond, Cavendish's sports director at Dimension Data. At the finish line, Sagan did wait to apologize to Cavendish but the Briton had already been taken to hospital for X-rays. "He was coming from behind, I did not have time to react and go left," said the Slovak.
Demare's win overshadowed
Arnaud Demare became the first French stage winner of this year's Tour, crossing the line first in Vittel ahead of Sagan and Norway's Alexander Kristoff, but his achievement was overshadowed by the two serious crashes on the final sprint.
For 190 kilometers of the 207.5-kilometer stage, Belgian debutant Guillaume van Keirsbulck had been in the lead, attacking from the start and establishing a lead of over 10 minutes out on his own. But the peloton eventually reeled him in with 20 kilometers to go as the field approached Vittel as one.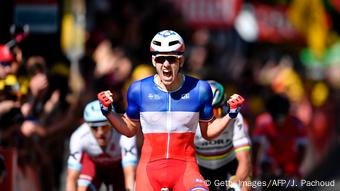 Frenchman Arnaud Demare won stage four of the Tour de France
There, French champion Demare became the first Frenchman to win a Tour stage in a sprint finish since 2006 and took the green jersey from the downed Kittel - an achievement which ended up as little more than a footnote.
Tomorrow's fifth stage takes the Tour another 160.5 kilometers from Vittel to La planche des belles filles.
mf, dm/se (AFP, SID)