The new law brings little change for publishers - that, in a nutshell, is the reaction to new tighter online copyright laws. Publishers are now allowed to require Internet search engines to pay for commercial use of more than snippets of journalistic texts. Passed by German lawmakers this past March, the law went into effect on Thursday (01.08.2013) - after years of controversy.
Declining readership
Mario Rehse, division manager for industrial property at Germany's Federal Association for Information Technology, Telecommunications and New Media (Bitkom) said vagueness in legal terminology is a problem with the new law. "It is not even clear what is being protected," Rehse said.
Lawmakers stipulate that the use of "very small text excerpts" is allowed - but they do not determine the length. Another problem: Internet service providers do not know whom to ask for permission.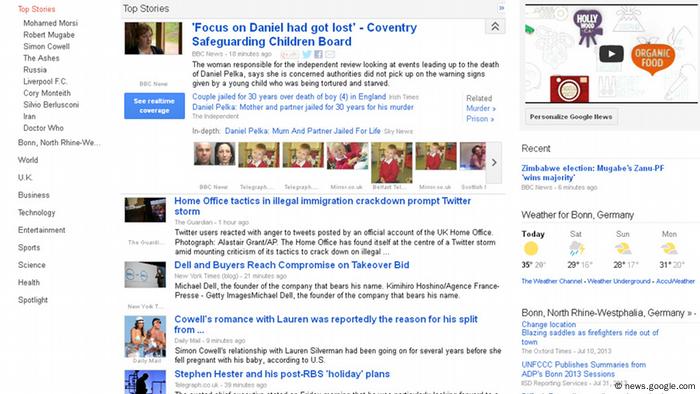 Google wants to keep using news snippets for free
"From the start, we never saw a necessity for this law," Rehse said. "When major publishers ask how you can make money on the Internet these days, the answer is not new legislation, rather economic action."
At present, the large publishing houses that lobbied for the law seem to profit little from the new provisions. Matthias Döpfner, chief executive of the Springer publishing company, once called the draft law a "fateful issue" for German print media.
But Springer has since backpedalled, and so have publishers Gruner and Jahr. The "Frankfurter Allgemeine Zeitung" newspaper announced it would not demand payment from Google News and other search engines for the time being; the publishers fear a "significant loss of reach."
Fear of declining sales
The world's largest search engine flexed its muscles in reaction to the German copyright law extension. Google sent German publishers declarations of consent, saying it would only display material from publishers who agreed to have free content appear on Google News.
Publishers who decline to agree to the conditions are excluded from the news aggregation service. As a result, readers who enter a keyword in a Google News search will no longer see links to that publishing house's website, causing click figures to go down - and advertisers to drop away.
Some media corporations tried adding restrictions - but Google has said it regards additional written declarations appearing to contradict the declaration of consent as an indication that the publisher does not concur with use of its content on Google News.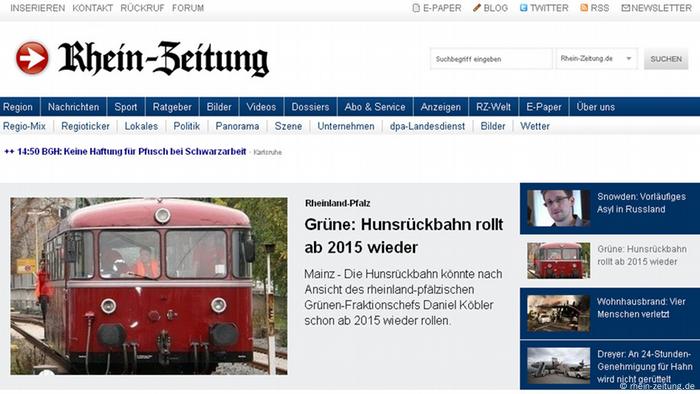 Regional news sites like the Rhein-Zeitung aren't as dependent on Google News since they cover local issues, like this story about streetcars in Mainz
Regional or nationwide
Some regional and trade publications have already dropped out. "Rhein-Zeitung" from the western city of Koblenz is one of them. "A regional paper has many advantages compared to a publishing house that operates nationwide," chief editor Christian Lindner said, adding that his paper often has exclusive material because it focuses on local issues.
On the Internet, leading regional papers have less competition, Lindner says. Major publishing houses, on the other hand, compete with each other on similar topics, providing an array of choices for the user and making access via news aggregation services important.
Germany's publishers' federations welcomed the new law. "Intellectual property is not valued very highly in our society," Peter Klotzki of the Federation of German Magazine Publishers told DW. This law is not so much about more revenue for the publishing companies, he said, as it is about "making a statement."