Chanting "Sayonara nuclear power" and waving banners, tens of thousands of people marched in central Tokyo on Monday to call on the government to abandon atomic energy in the wake of the Fukushima nuclear accident. Police estimated the crowd at 20,000, while organizers said there were nearly 60,000 protesters.
"No more nuclear power plants! No more Fukushimas," they shouted in the scorching sunshine as they flocked to Meiji Park.
Evacuees from the area around the region addressed the crowd, as did Nobel Prize laureate Kenzaburo Oe. "Some people say we cannot make great achievements without nuclear power, but that's a lie," the writer said. "Nuclear power is always accompanied by devastation and sacrifice."
Raising fears of contamination in everything from fruit and vegetables to fish and water, the Fukushima Daiichi nuclear power station has been leaking radioactive material into the environment ever since it was crippled by a magnitude 9 earthquake and a subsequent tsunami on March 11 in the world's worst nuclear accident since Chernobyl.
Some 100,000 have been forced to evacuate and remain uncertain as to when, if ever, they will be able to return.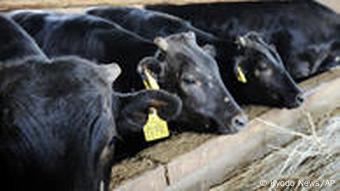 The nuclear disaster has contaminated food and water for kilometers around
No specific plans to abandon nuclear energy
In addition to the fears of radiation, the Japanese public and corporate world have had to put up with electricity shortages amid the sweltering summer heat after more than 30 of Japan's 54 nuclear reactors were halted to undergo inspections.
Prime Minister Yoshihiko Noda, who took office earlier this month, has said Japan will restart reactors that clear the safety checks. Although he has also said the country should reduce its reliance on atomic energy over the long-term and explore alternative sources of energy, he has not spelled out any specific goals.
Before the disaster, this earthquake-prone country derived 30 percent of its electricity from nuclear power. The fact that Japan is also a resource-poor nation makes it difficult and time-consuming to come up with viable alternative forms of energy.
On Monday, the Japanese minister in charge of handling the Fukushima crisis told an annual gathering at the UN atomic agency in Vienna that his country had a "safer nuclear future."
Author: Manasi Gopalakrishnan (dpa, AP, AFP)
Editor: Anne Thomas