Your ticket to the German classical music festival scene: Concert Hour has the picks of the season — two hours of music updated regularly.
Along with host Rick Fulker, the musicians themselves are on hand to give their insights into the events and the music.
Part one:
A who's who of who's in demand in any season: mandolin virtuoso Avi Avital, percussionist Martin Grubinger, harpist Xavier de Maistre, cellist Sol Gabetta, pianist Christian Bezuidenhout and clarinetist Sabine Meyer.
Each these artists was individually in the spotlight in a past season of the Schleswig-Holstein Music festival. In 2020, they all came. "It's like coming home," said Israeli mandolin player Avi Avital, who adapted Bach's Violin concerto in A Minor for the mandolin.
Having brought the mandolin out of the shadows, Avi Avital describes it as an instrument that is common, yet mysterious: "Not a lot of people have really heard it in concert. This is what I enjoy revealing to the audience: what it is nowadays."
The Japanese composer Maki Ishii wrote Thirteen Drums in 1988 for big tubular Japanese taiko drums. Percussionist Martin Grubinger has played it that way too, but here he brings out the full arsenal of percussion instruments for a big sound.
Amidst the pandemic, French harp player Xavier de Maistre gave house concerts for music lovers at their homes. Together with former students, he then staged a little harp festival with pop-up concerts for small audiences. Sometimes he arranges orchestral music for solo harp, but at the Schleswig-Holstein Music Festival he had tailwind from the NDR Elbphilharmonie Orchestra.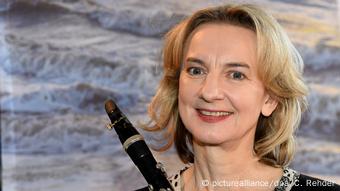 Sabine Meyer has made several appearances at the Schleswig-Holstein music festival
Here are the details:
Johann Sebastian Bach
Violin concerto in A Minor, BWV 1041, adapted for mandolin
Edvard Grieg
From Holberg's Time, suite op. 40, version for strings
Maki Ishii
Thirteen drums
François-Adrien Boieldieu
Harp concerto in C Major, arranged for strings by Arthur Lilienthal (first movement, excerpt)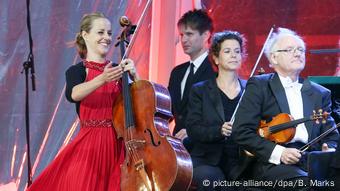 Argentinian Cellist Sol Gabetta hosts a TV music show in Germany
Performed by:
Avi Avital, mandolin
Martin Grubinger, percussion
Xavier de Maistre, harp
NDR Elbphilharmonie Orchestra
Alan Gilbert, conductor
Recorded by North German Radio Hamburg (NDR) in the Hasselburg country estate on July 5, 2020
Part two:
A homecoming for past portrait artists of Germany's biggest festival, spanning an entire state and, in the most recent season, offering many digital events such as this concert.
Argentine cellist Sol Gabetta, a classical music TV host in Germany, has her own festival in Switzerland, where she makes her home. Joining her here is the Australian pianist Kristian Bezuidenhout in Beethoven's third sonata for cello and piano, a work that Gabetta finds simple – yet difficult: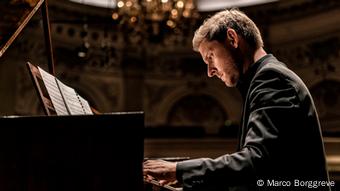 Kristian Beuidenhout plays the harpsichord, the fortepiano and the modern piano with equal ease
"There are so any open questions in the music," said Gabetta. "It's so fragile, yet so strong. You can structure it so many different ways. As a performer, I feel like an architect. The stones are all in place, the doors are where they need to be too, but you still have to inject taste. You only discover these things after doing it for years."
Kristian Bezuidenhout pointed to the freedoms performers have when interpreting the Viennese classics: "In the score, they didn't give many indications of how to play it. That leaves it up to us: the choice of instrument, the articulation, the sound colors. You have to bring your own personality and opinion into play."
Reiner Wehle and Sabine Meyer play the same instrument, or nearly: she the clarinet and he the basset horn, which is in the clarinet family of instruments. They're both soloists here in Mendelssohn's Concert Piece 1 in F Minor.
Here are the details:
François-Adrien Boieldieu
Harp concerto in C Major, arranged for strings by Arthur Lilienthal (second and third movements)
Ludwig van Beethoven
Sonata No. 3 in A Major for cello and piano, op. 69
Felix Mendelssohn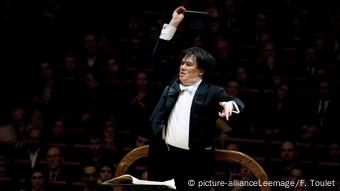 America music conductor Alan Gilbert
Concert piece No. 1 for clarinet, basset horn and orchestra, arranged by Rainer Schottstädt
Performed by:
Xavier de Maistre, harp
Sol Gabetta, cello
Kristian Bezuidenhout, piano
Sabine Meyer, clarinet
Reiner Wehle, basset horn
NDR Elbphilharmonie Orchestra
Alan Gilbert, conductor
Recorded by North German Radio Hamburg (NDR) in the Hasselburg country estate on July 5, 2020
Antonin Dvorak
Romantic pieces, op. 75
Performed by:
Daniel Müller-Schott, cello
Annika Treutler, piano
Recorded by North German Radio Hamburg (NDR) at the Rostock Music Academy on July 16, 2020