A surge in humanitarian crises worldwide and donor reticence has prompted the International Committee of the Red Cross to again appeal for urgent funding.
In its annual report reviewing 2010, published on Thursday, the Geneva-based organization says "several" important donors worried by their own economic downturns held off as the Red Cross tried to deal with a "quick succession of crises." These included armed conflicts in Ivory Coast and Libya, the Haiti earthquake, floods in Pakistan and drought in Mali and Niger.
Some 20 richer donors, including the United States, the European Commission, Switzerland and the United Kingdom, typically contribute more than 80 percent of all Red Cross revenues,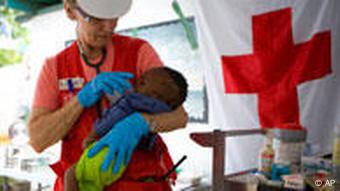 Baby Sebastian lost his mother in Haiti's 2010 earthquake
Its funding was further stretched by long-running conflicts in other regions, like Somalia and Afghanistan, some of them decades old, the Red Cross said.
A year of 'crucial decisions'
ICRC President Jakob Kellenberger said "crucial" decisions had had to be made in 2010.
"We had to react quickly, set priorities, and review our operating and infrastructure costs both in the field and at headquarters," said Kellenberg, adding that cuts have been made in health service, sanitation and food deliveries worldwide.
The upshot for the current year is a 57 million euro ($80 million) reduction in funding allocations for the field work or 7.6 percent less than had been originally budgeted, said Kellenberger.
The report for 2010 outlines expenditures of 809 million euros. Last year the ICRC distributed food to 4.9 million people. Over 3.2 million benefited from its sustainable food production schemes. Its medical and health aid reached 5.3 million people. And its staff visited nearly 600,000 detainees to avert potential abuse at 1,783 locations worldwide.
Author: Ian P. Johnson (AP, epd)
Editor: Susan Houlton