The English Garden in Munich
The city's proximity to mountains and lakes and the English Garden at the heart of the city make Munich one of the most relaxing places in Germany. If it's quality of life that you're looking for, then you can do no wrong by paying a visit to the Bavarian capital.
Munich is also chic. A stroll down the main shopping street, the Maximilianstrasse, can easily leave you poorer. But with the sight-seeing wealth Munich has on offer, you'll barely notice.
The members of the House of Wittelsbach, who once ruled Bavaria, loved to fill their palaces' airy, Italianate interiors with precious collections.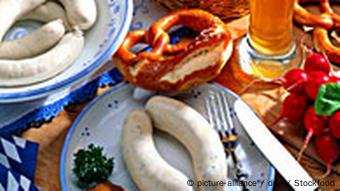 Bavarian "Brotzeit" - traditional meal
Many of those treasures and other works of art dating from the 14th to the 21st centuries are displayed in the city's three Pinakothek art galleries. Munich's skyline is dominated by the two 99-meter tall spires of the Church of Our Lady. In the Old Town, tourists all from all corners of the globe gather on Marienplatz to hear the famous glockenspiel in the neo-Gothic town hall.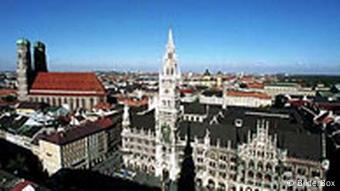 Munich Town Hall and Church of Our Lady
At the start of the beer garden season, tourists, businessmen, and people sporting traditional Bavarian hats and dress sit outside to enjoy a cold beer. Perhaps the most celebrated drinking spot is the Theresienwiese where the residents of Munich and millions of visitors celebrate the biggest folk festival on the planet, the Oktoberfest.
Author: DW-TV
Editor: Sue Cox