Scores of federal police officers launched raids across several states as part of an investigation into right-wing Internet activity.
The suspected ringleaders of an international Internet portal - 47-year-old Jutta V. and 27-year-old Ralph Thomas K. - were arrested on suspicion of forming a criminal organization. Police took them into custody in Bielefeld in the state of North-Rhine Westphalia.
According to a press statement by the Federal Prosecutor's Office, they were inciting hatred and violence via the site "Altermedia Deutschland," which has international following. They are also alleged to have systematically spread Nazi ideology, used outlawed Nazi greetings and called for violence against foreigners in Germany.
"They are suspected of encouraging other right-wing extremists to commit crimes and are, thereby, creating a climate of fear among the people affected," the Federal Prosecutor's Office said, noting that the case was given to them because of the site's international prominence.
The arrests were made in Lloret de Mar, Spain, in relation to the case. The server, based in Russia, is still active. German officials have requested that it be shut down.
Big fish
In 2011, investigations led to Altermedia and the shut-down of its domain - based in the US at the time - and a 3,000-euro ($3,260) fine for its administrator, Axel Möller and, eventually, a 27-month prison sentence for another administrator, Robert Rupprecht.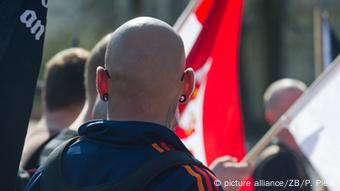 Neo-Nazi march in Frankfurt
The first big raids five years ago were a signal to the right-wing scene that the Internet wasn't a "space outside the law," Right-wing extremism expert Andreas Speit told DW.
Even though the people running the site became more careful after 2011, the Internet portal has remained an important place for extremist ideology, despite the rise of social media, where criminally punishable statements can be hidden more easily.
Altermedia, launched in 2003, was an upgrade to the 1997 Stoertebeker.net website, and grew into what would become the largest online space for right-wing extremists - particularly neo-Nazis in Germany - tfor the exchange of information and sharing of propaganda, according to the non-profit website "Netz-Gegen-Nazis.de," or Anti-Nazi Net. How the site could have existed in one form or another for nearly 20 years was not clarified by the Federal Prosecutor on Wednesday.
Platforms like Altermedia "are - to put it carefully - by the scene, for the scene. You have to know what they're called, how to recognize them in order to find them," said Speit, who has written prolifically about right-wing extremists and neo-Nazis as a journalist.
"The Internet has become the central propaganda medium for the entire scene and, above all, is important for internal communication."
The line between far-right and neo-Nazi
Indeed, the convergence of the Internet, social media and the refugee crisis has fueled an unprecedented spread of information considered questionable by the authorities. The rise of anti-immigrant groups, like Pegida, which have grown rapidly thanks to Facebook, Speit says, has also shown that anti-foreigner sentiments exist outside the neo-Nazi scene.
Pegida and the political party "Alternative für Deutschland" (AfD) have been appearing in public with politicians from the nationalistic NPD party and Hooligans against Salafists at rallies to demonstrate against Chancellor Angela Merkel's refugee policies.
"They stand together on this topic," Speit says. It shows that "the shame we once had [due to the Nazi past], because of fear over how it would look, is now over."
Still, online the trends are different. The administrators of sites like Altermedia will still go to the trouble of running their own hardcore site, not because they don't use social media, but because this type of portal "has it's own character that's decisive and important for their scene."