200 years after the death of Friedrich Schiller, the keepers of the German poet's flame have come up with a unique way to memorialize him: a comic book.
A brainchild of the German Schiller Society in Marbach, Germany, and the Cologne-based publisher ehapa-Verlag, the comic about Schiller's life will be published in May, on the 200th anniversary of his death.
Exciting life
The drawings are currently on view in an exhibit at the poet's place of birth in Marbach.
"We hope the (book's) publication will be tied to new interest in Schiller's work and his life," Schiller Society spokeswoman Chritiane Daetsch told DPA news service.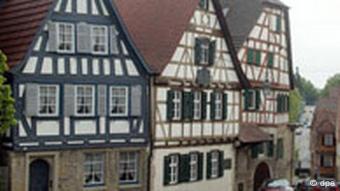 Schiller's birthplace, in Marbach
The publishers are especially hoping the comic will awaken an interest in Schiller among younger readers. The story will "tell the exciting story of Schiller's life," focusing on the period when he fled Stuttgart to become a writer, Daetsch said.
Schiller was a 22 years old medic in 1782 when he left Stuttgart, fleeing the Duke Carl Eugen von Württemberg, who had forbid him from writing.
His flight represents "the expression of his decision to live for writing alone," said the artist Horus (Horus W. Odenthal), who was selected to tell the story.
'Pale and beaky'
The prizewinning comic artist read through Schiller biographies before he began to work on the story, but found particular inspiration in the poet's personal letters. They increasingly told the story of a contradictory figure: on the one hand a writer with a sure feel for words and stories, on the other, an excessive, tumultuous outsider, repeatedly irritating those around him.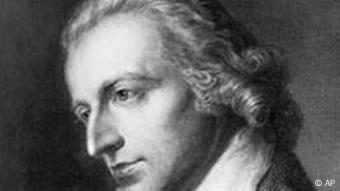 ** ARCHIV ** Undatiertes Bild des deutschen Dichters Friedrich von Schiller. Er wurde 1759 in Marbach am Neckar geboren und starb 1805 in Weimar. Am 9. Mai 2005 jaehrt sich zum 200. Mal der Todestag Friedrich Schillers. Zu Ehren des grossen deutschen Dichters wird es in seinem Geburtsort Marbach am Neckar wie an seinen Wirkungsstaetten in Stuttgart, Mannheim, Jena und Weimar eine Fuelle von Veranstaltungen geben. (AP Photo)
Horus said his biggest challenge was figuring out how to draw the protagonist. The problem? Finding out what Schiller -- who over the years had been depicted in widely varying ways -- really looked like.
In order to find the real Schiller, Horus went straight to the source: the poet's death mask. (Making a cast of the face of a famous person upon his death was once common practice.)
In the end, Horus decided Schiller "was like the ugly kid in the class: redhead, freckled, pale, with a long neck and a beaky nose," he told DPA. Over the centuries, however, his image was revised and re-revised, until he became a dashingly handsome young blond.
The Schiller Society's Daetsch points out that what seems very unusual at first glance -- combining a historic literary figure with a comic book -- actually has a basis in the poet's own history.
"Schiller himself used illustration and humor," she told DPA, pointing out that he drew illustrated stories with "comic figures" for his friend Gottfried Körner.