Doerte Franke's documentary, titled simply "Stolperstein," or "Stumbling Stone," first drew acclaim when it featured at the Locarno Film Festival in Switzerland in July.
The film takes viewers on a journey with Cologne-based artist, Gunter Demnig, the man behind the stumbling stones -- miniature memorials to victims of Nazi persecution -- that have become part of city streets in more than 300 locations in Germany alone.
The stumbling stones are topped with square brass plaques inscribed with the names and birth dates of people who were deported by the Nazis, as well as the date and location of their death, if known. The stones are embedded in the sidewalk outside the person's former address so that passersby can literally stumble across these reminders of the terrible fate suffered by Jews, Roma, homosexuals and political dissidents under Adolf Hitler's Nazi regime.
They are Demnig's answer to the question of how to keep the victims' legacy alive for future generations, given that the number of survivors is growing smaller with each passing year.
"I never actually thought that I would get to implement this project, because I thought it was way too big," Demnig told DW.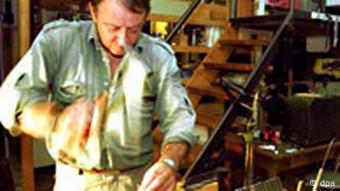 Demnig at work in his Cologne studio
His goal at first was to create six to 12 million stones. But then a priest told him that, even if he couldn't fathom the resources it would take to lay a million stones, he could always start out small. That was eight years ago. In the meantime, Demnig has laid more than 17,000 stones, and the project is still going strong.
In Hamburg, some 2,380 stones have been put into the ground, and in Berlin, the number reached 2,000 in November. In Munich, however, there's a complete lack of stones as local authorities there refused to grant Demnig permission to put his project into action in the city.
Stones spreading beyond Germany
The initiative is not limited to Germany. The first stones were laid in 12 locations in Austria, including in Braunau am Inn, Hitler's birthplace. In Hungary and the Netherlands, the small stones also serve as reminders of huge suffering. Next year, Demnig will take his project to Belgium, and he's had requests from France and Italy.
"A person is only forgotten once his name is forgotten," Demnig has often said.
Franke's camera follows the artist at the small ceremonies when the privately-financed stones are laid. The production and embedding of a single stone costs 95 euros (about $120). Often, the victim's family members are shown in the film. But the camera also captures the reactions of passersby, or shows the team of women in Hamburg who've taken it upon themselves to regularly clean and polish the brass stones.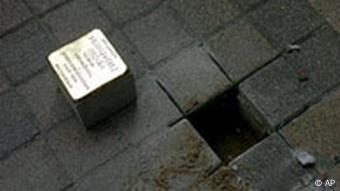 A stone bearing the name of a Holocaust victim waits to be placed into the pavement in front of a house in Hungary
But Franke's film also reveals that Demnig's work is not without opposition in Germany. Not surprisingly, right-wing extremists have attempted to intimidate the artist, particularly in eastern Germany, where he says police escorts are routinely sent to the stone-laying ceremonies. Forty-one stones in eastern Germany have so far been vandalized, Demnig said.
He's even found a critic in the head of the Central Council for Jews in Germany, Charlotte Knobloch. She said that the dignity of the victims should not -- literally -- be trampled on. She declined to be interviewed for Franke's documentary.
Demnig, however, said he disagrees with Knobloch's interpretation.
"One aspect has become very important for me," he said. "When you come upon a stone and stop to read it, you automatically have to bow down to the victim."