Some 45 street artists from nine countries are taking part in Germany's biggest-ever urban art exhibition, "URBAN AFFAIRS -- Streetart Berlin 2008." Interest has been so overwhelming that the show has been extended to the end of August.
The dank and musty walls of the former Friedrichshoehe brewery in the youthful district of Friedrichshain are currently plastered with garish, exotic and edgy art works, attracting visitors from all over Europe.
"Some of the work is exciting," said Gina Mellazini, a 19-year-old art student on holiday from Bologna, "though not all of it rings a bell with me."
According to curator Jochen Kuepper, 70 percent of the art on display was created over a 72-hour period.
"Not until artists had completed their three-day projects were the public allowed in to see the results," he said.
Cartoon-like figures hug one of the flaking walls. On another, a bare-chested man with a resigned facial expression carries a naked, seemingly lifeless, woman in his arms.
Berlin, street art capital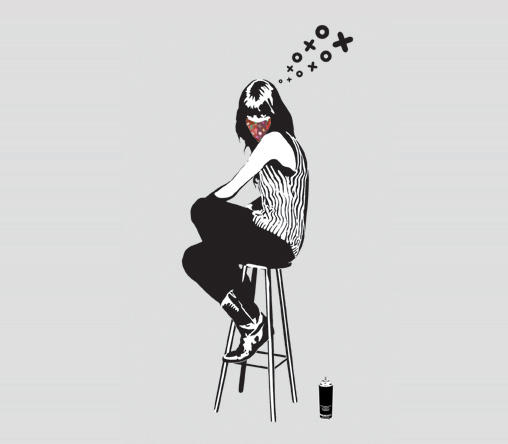 Many artists work under pseudonyms
Nowadays, Berlin rates as one of the best locations for street art and graffiti. Take a ride on an overhead commuter train, and graffiti accompanies you on both sides for miles and miles of your journey.
"The whole city is a canvas," Kuepper said. "It has so many walls, so many atmospheric buildings. Berlin's become a magnet for artists who produce their art on concrete surfaces."
But what is the difference between street art and graffiti?
"Many people started with graffiti," Kuepper said. "The idea that you use the spray can in public spaces stems from graffiti, but now this wild form has grown boring and isn't understandable anymore."
"That's why graffiti never reaches the galleries. Street art is something else -- whether screens, murals, sculptures or installations -- it has this fascinating wealth of forms, all rooted in the concept of 'urban art' and influenced by avant-garde movements such as Fluxus, Pop Art and Conceptual Art."
Joining the establishment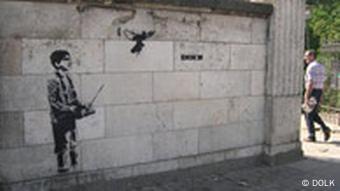 Vandalism, or enhancing the urban environment?
Unlike other cities which have demonized its urban artists, Kuepper insists street art today is an integral staple of the Berlin cultural scene and long regarded as hip.
Hollywood idols Angelina Jolie and Brad Pitt are great fans of street art. A few months ago at they splashed out some 290,000 euros ($458,000) for a stencil work by England artist Banksy, considered one of the big names of the street art scene.
Kuepper says "street art" is gaining increasing global attention from the established art market, with work by its top exponents starting to break auction house records.
El Tono from Spain is one of the participants in Berlin. The fact that he and his compatriot Nano 4818 have been exhibiting at the Tate Modern's street art show in London is proof for Kuepper of the "staggering development and widespread notoriety of the anarchic art movement."
Criminalized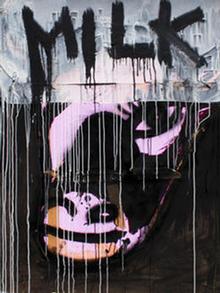 The exhibition is pulling in the crowds
Most street artists hide their real identities behind pseudonyms -- partly due to continuing criminalization of the art form in some regions. In free-wheeling Berlin, however, officials take a much more relaxed view.
German artist El Bocho takes to the Berlin streets at night, carrying his hand-painted posters which he pastes on walls and abandoned properties. Sometimes he's also seen attaching his cleverly designed tiles to buildings in the central Mitte, Prenzlauer Berg and Friedrichshain districts.
El Bocho says he's never encountered problems with the law although he sometimes gets stopped by policemen asking what he's doing wandering the streets at night.