It almost seems as if Claudia Pechstein has been around forever. The Berlin native first competed at the Winter Games in Albertville in 1992, when she won her first-ever Olympic medal, the bronze in the 5,000 meters.
Since then, she has gone on to appear at four more Olympic Games, adding eight more medals, including five golds, to her haul. Despite her success, though, things have been far from plain sailing in her career. In 2010, a blood-doping ban forced her to miss the 2010 Games in Vancouver.
However, the setback at an age that could well have spelled the end of many athletes' careers, seems to have spurred her on.
Now, she has marked February 16 on the calendar, for that is the day of the women's Olympic 5,000 meters, her favorite distance on the speedskating oval. Should she manage to make it to the podium, she will be the oldest-ever athlete to win an Olympic medal in the sport — just six days short of her 46th birthday.
Setting records by becoming the oldest to win this or that is nothing new for Pechstein. Last year she became the oldest women's speedskater to win a World Cup medal – taking silver in the 5,000 on the oval at Gangneung, which also happens to be the venue for the Olympic competition.
"I have good memories of this oval and not just because of the medal," the five-time Olympic gold medalist said. "The ice was excellent and I hope the ice maker and his crew can duplicate the quality this year."
'Out to do the best I can'
The fact that her age has made her something of a novelty in international sports, isn't lost on Pechstein, but she doesn't let it bother her.
"I clearly possess a gut physical predisposition towards speedskating," she said. However, the most important thing now is that she enjoys racing around the oval.
"Actually, based upon my age, I should always finish last," she said with a view towards the upcoming Winter Games. Clearly, though, this is something that she would not be satisfied with in Gangneung.
Pechstein (middle) won gold in the 5,000 meters in Stavanger last November
As she proved back in November, when, in Stavanger, she won the 33rd World Cup race of her career, Pechstein does have a legitimate shot at winning another Olympic medal.
"I plan to give it all I've got in South Korea, but I will just wait and see what is possible on the day. If I perform well but it is not good enough for a medal, then that's okay too," she said.
Backed by an international team
When it comes to delivering on the ice, Pechstein is on her own. With Gunda Niemann-Stirnemann and Anni Friesinger-Postma long since retired, there is little competition from her compatriots. Which is why, two years ago, Pechstein put together her own speedskating team consisting of athletes from Russia, Norway and Hungary.
"I need these skaters by me in order to maintain my level and continue to improve," she explained.
The team is supported financially by sponsors and trained by a member of the sport's royalty: Peter Mueller, the American who won Olympic gold in the 1,000 meters in Innsbruck in 1976. Pechstein is full of praise for her coach who "isn't afraid to read the riot act" when her performances in training aren't up to scratch. The feeling is mutual.
"She has incredible willpower," Mueller said. "She simply can't stand losing. She always wants to win."
Mueller isn't the only source of male motivation in Pechstein's life. The skater met her partner, Matthias Grosse, during one of the darkest periods of her career.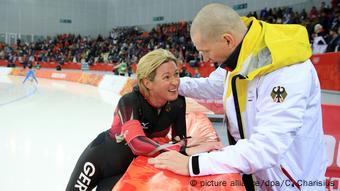 Pechstein with her partner, Matthias Grosse
Back in 2009, the International Skating Union (ISU) accused Pechstein of doping after tests revealed abnormal blood values. She was banned her from the sport for two years based solely on suspicion; Pechstein has never actually tested positive for a performance-enhancing drug.
With the help of assessments from respected medical experts, Pechstein was able to prove that she suffers from a hereditary disease which causes fluctuations in her blood values. But this wasn't enough for ISU, which refused to repeal her sentence. This was the ban that force her to sit out the Vancouver Games.
For years now, Pechstein has been fighting in the courts, suing the ISU for millions of euros' worth of damages. The case is currently with Germany's Constitutional Court.
Recognition is important
Pechstein's fight for justice continues to motivate her on the ice. Every good performance, every World Cup win, perhaps even an Olympic medal, all are symbolic blows against ISU.
Some of the functionaries who were responsible for her ban are still in office, and while her story was initially met with skepticism in many parts of her home country, today, she enjoys a lot more support. Indeed, the president of the German Olympic Sports Federation (DOSB), Alfons Hörmann, has officially apologized for the way German has sport treated her.