After a day in Libya, where he was received by leader Moammar Gadhafi in Tripoli, Steinmeier held talks in Algiers Wednesday with his counterpart Mohamed Bedjaoui and President Abdelaziz Bouteflika.
The German delegation's sources said that Bouteflika and Steinmeier spoke for more than four hours about bilateral relations and issues including the Iranian nuclear programm, the Middle East crisis and the Darfur conflict.
Steinmeier also praised recent political reforms and promised further European cooperation with the country if they are pursued.
Early debt repayment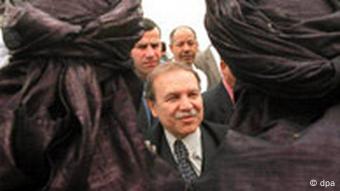 Abdelaziz Bouteflika
During the visit, Steinmeier signed a pact with Algerian Finance Minister Mourad Medelci in which the country agreed to repay ahead of schedule its total debt to Germany of $372 million.
Germany is Algeria's fourth biggest creditor and accepted payment for half of the country's debt in August 2006.
Algeria is one of Germany's main energy suppliers, with Germany doubling its import of primarily gas and oil from Algeria to 1.6 billion euros in the last year.
Under the new agreement, Algeria will repay the rest back and invest 70 percent of the saved interest -- about 52 million euros ($67 million) through 2011 -- in a water supply project for the western city of Tlemcen and the Maghnia-Ghazaouet region.
"I know how important it is for your government that you follow a decisive debt repayment policy and I'm particularly pleased that we can make a specific contribution to development on the basis of this agreement," Steinmeier told reporters.
The fall in oil prices in the late 1980s landed Algeria in fiscal trouble and the country has vowed not to allow a repetition.
It is using current high energy prices to pay off outstanding foreign debt in cooperation with the Paris Club of creditor countries.
Next stop: Tunisia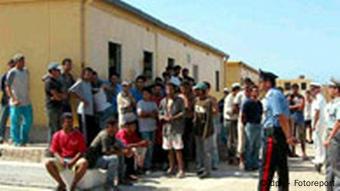 Illegal immigrants from Africa in southern Italy
On Thursday Steinmeier was scheduled to meet Prime Minister Abdelaziz Belkhadem and Energy Minister Chakib Khelil before continuing on to Tunis.
Germany's relations to Tunisia intensified after a terrorist attack in Djerba in April 2002 claimed the lives of 18 Germans. In 2003, the two countries signed an agreement to cooperate on tackling organized crime.
The last leg of the foreign minister's tour will take him to Morocco and Mauritania by Saturday. One subject expected to topic the agenda will be that of immigration, with the Maghreb region serving as the most common point of departure for Africans heading to Europe.
Further issues to be addressed include human rights' protection and the justice system in the Maghreb states.
Before beginning the trip, Steinmeier stressed the importance for Germany and the EU of dialogue with the North African Mediterranean countries -- and to continue developing what is known as the Barcelona Process, designed to integrate the Mediterranean countries in North Africa and the Middle East into to EU's free trade and economic development zone.
"The Maghreb countries represent a bridge to the Islamic-Arab world," he said.