A SpaceX rocket blasted off from Cape Canaveral in the US state of Florida on Saturday, carrying America's newest capsule for astronauts on its way to the International Space Station (ISS).
The 4.9-meter (16-foot) tall Crew Dragon capsule lifted off atop a Falcon 9 rocket at 2:49 a.m. local time (0749 GMT). SpaceX later confirmed Dragon's successful separation from the rocket.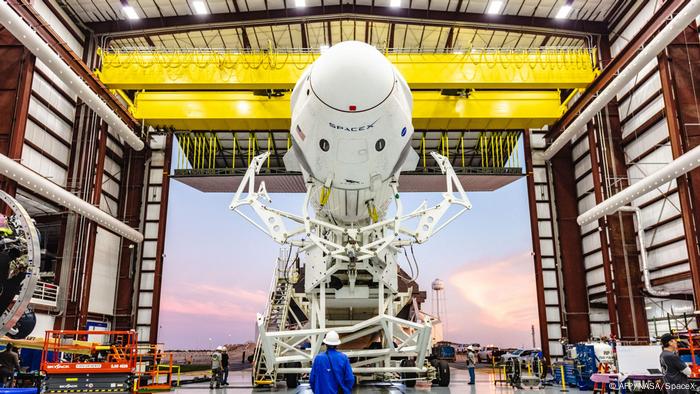 It will take just 27 hours for the unmanned capsule to reach the ISS
The launch is a key milestone for SpaceX, founded by entrepreneur Elon Musk. It also represents a step toward NASA's goal to put humans into space from US soil again, after human launches from Florida ceased in 2011 with the last space shuttle mission.
Read more: What you can see in space in 2019
Lonely passenger
Alongside a test dummy, named Ripley after a character from the "Alien" movies, the capsule is carrying 181 kilograms (400 lbs.) of supplies and test equipment for the ISS, where it is due to arrive early on Sunday morning. During its five-day stay at the station, the Dragon will be tested and inspected by US astronaut Anne McClain and Canadian astronaut David Saint-Jacques.
The flight is a test of the capsule ahead of a hoped-for manned launch in July this year. Two NASA astronauts who took part in the last space shuttle mission, Doug Hurley and Bob Behnken, are to fly in that second demo.
SpaceX was founded with the goal of reducing space transportation costs and working toward colonizing Mars.
tj/jlw (Reuters, AP)
Each evening at 1830 UTC, DW's editors send out a selection of the day's hard news and quality feature journalism. You can sign up to receive it directly here.