DW: Before becoming an opera singer, you worked as a midwife and nurse. How has your life experience affected your singing?
Catherine Foster: I do not have a degree in acting, so it's important to me to study people. I worked for nearly 15 years in a hospital, where I gained a lot of experience with young and older people, with children, with the rich and the poor, the happy and the sad. And I take that experience with me on stage every time I perform.
Can you recall your first encounter with Wagner's music?
Actually, I never wanted to sing Wagner - I felt the operas were just too long for me. But then conductor George Alexander Albrecht hired me for "Tannhäuser" in Vienna. He was desperately looking for a soprano with a youngish-dramatic voice for the role of Elisabeth. That was completely new to me. I had sung Mozart in the past: "Queen of the Night" and "Donna Anna." And then this Wagner. That was a real jump into the deep end.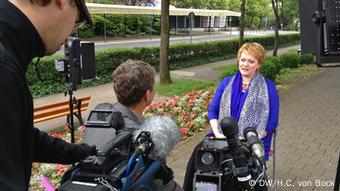 Foster in Bayreuth, speaking in an interview with Deutsche Welle
You have meanwhile sung done a bit of Wagner, and have sung the role of Brünnhilde several times. How did you feel when you were invited to sing at Bayreuth?
It was overwhelming! I can't put it into words! Pure emotion. Actually, I felt a little bit like Brünnhilde herself. Bayreuth - for a singer, that seems almost like an unattainable goal. Wagner in Wagner's opera house - what could be better? When I received the news, I thought: "Okay, now I really do have to learn German well."
What fascinates you about Brünnhilde?
I have been studying the Brünnhilde character since 2006, but I think that in ten years, I still won't know everything about her. Every time I see look at the musical score, every time I'm on stage singing the role, or giving an interview about it, I discover new facets to Brünnhilde. To me, she's a true woman: a very emotional, but also very self-confident woman who develops from "The Valkyries" through to the "Twilight of the Gods."
Catherine Foster was born in Nottingham, England. The trained nurse and midwife studied singing at the Birmingham Conservatoire from 1995 to 1997. She began performing roles in Mozart operas in 1998, and increasingly took on dramatic soprano roles as of 2001. Foster sang "Brünnhilde" in Richard Wagner's "Ring of the Nibelung" opera cycle for the first time in 2007.