In one of the biggest technology company deals of the year, SoftBank founder and CEO Masayoshi Son confirmed on Monday that his technology investment firm had successfully completed a friendly takeover of ARM, a British company that designs computer chip architectures, for 24 billion pounds sterling ($32 billion, 28.7 billion euros).
The price paid represents a 43 percent premium over ARM's closing share price on the last business day before the acquisition was agreed in principle by Son and ARM's chairman, Stuart Chambers.
The deal moved remarkably swiftly. It was first mooted in mid-July, and ARM signalled it favored the deal within two weeks after Son first approached Chambers.

The deal came as an abrupt turnaround for 59-year-old "Mr.Son" personally. He had intended to retire from active management of SoftBank, which he founded in 1981 at the age of 24, and hand over the reins to heir apparent Nikesh Arora, a former Google executive. Instead, the irrepressible Son stayed on as CEO and Arora, who as Chief Operating Officer (COO) had been trying to trim SoftBank's debt by selling some assets, quit.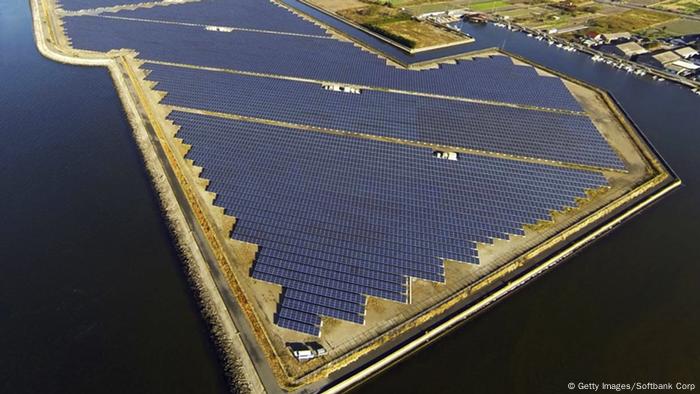 SoftBank owns Yonago Solar Park in Japan, pictured, and US-based Sprint telecommunications firm, among many other assets. Founder Masayoshi Son turned against nuclear power and began investing in renewables after the Fukushima nuclear meltdown in 2011
ARM set to grow
As part of the buyout deal, SoftBank entered a set of binding commitments under new rules that guide the government's approval process for takeovers of UK public companies.
SoftBank agreed to double the number of ARM's UK-based employees, maintain the chip designer's headquarters in Cambridge, and maintain its "neutrality and independence." SoftBank has said it will also increase the size of ARM's non-UK workforce.
Why it matters
ARM is an acronym that stands for "Advanced RISC Machine." The term refers to a family of "reduced instruction set computing" (RISC) architectures for computer processors, which can be configured for various applications.
ARM designs the architectures and then licenses them to other companies, which design products implementing the architectures, including systems-on-chips (SoCs) that incorporate multiple functions such as memory, user interface functions, radios, and so on.
RISC-based designs require fewer transistors than typical general-purpose complex instruction set computing (CISC) processors such as those used in personal computers. That means RISC processors cost less to produce per unit, use less power, and generate less waste heat.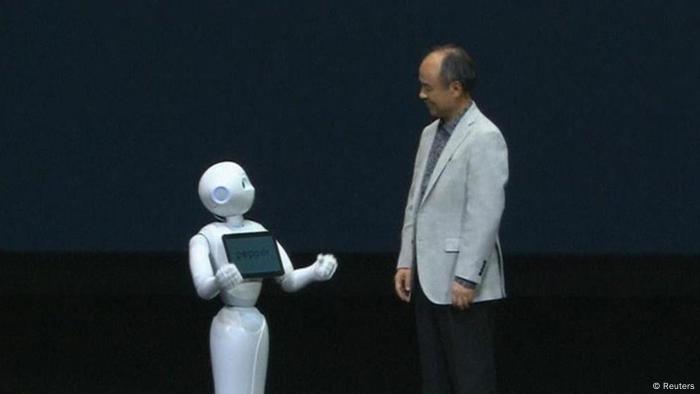 A robot of the type called "Pepper" greeting Masayoshi Son. SoftBank bought the robot maker Aldebaran in 2014
That makes ARM chip architectures especially suitable for small, portable, battery-powered devices, such as smartphones, tablet computers, laptops, and chips embedded in other gadgets. ARM chip architectures dominate the smarphone market.
Chips are expected to be embedded in an ever-wider variety of gadgets in future, with the emergence of the Internet of Things (IoT). That's the reason, analysts believe, that Masayoshi Son was so keen to acquire ARM. As the leading developer of RISC architectures, Son apparently believes the Cambridge-based company will play a pivotal role in the growth of IoT.
Risky move
Some analysts said the acquisition was a risky move for SoftBank.
"To us, the ARM acquisition appears largely inconsistent with SoftBank's investment strategy," said analyst Atul Goyal at Jefferies when the deal was first proposed in July, adding it was unclear how ARM, which he believed had already been trading at a premium before the takeover was agreed, would benefit SoftBank investors: "It does not inspire much confidence and requires deeper review."
Mitsushige Akino, chief fund manager at Ichiyoshi Asset Management, was also skeptical. Many investors had been hoping Masayoshi Son would use cash from recent asset sales to buy back shares or pay down its hefty debt, which stands in excess of $110 billion.
SoftBank paid for ARM in cash, of which it had $16.7 billion cash-in-hand. The balance of 7.3 billion was raised by issuing fresh debt.
"A fresh acquisition is not what the market wants from SoftBank," Akino said. "It's Mr. Son's style to keep expanding, but isn't he stretching too much?"
Other analysts were more upbeat. Tomoaki Kawasaki, senior analyst at IwaiCosmo Securities, said: "There is little synergy with SoftBank's existing businesses, but it makes sense if we look at ARM's future potential."
It bears repeating: That future potential has much to do with the emerging Internet of Things, in which chips will be embedded in an ever-growing variety of gadgets.