The sky is wide open for Yvonne Buschbaum, who feels the lightness of being after undergoing extensive surgery to become the man he always felt he was. Now, the athlete goes by the name Balian Buschbaum.
"Courage is the road to freedom," said a recent diary entry on his Web site. "I woke up in complete freedom today. The sky is wide open."
Buschbaum is not ready yet for interviews as "I am still flying on my clouds of freedom and won't land until the end the November, at the earliest."
The necessary operations have also taken a toll on the 28-year-old.
"He is still a little weak from the surgery," said Buschbaum's former coach Herbert Czingon. "But he can get up and is upbeat that he can leave for home on the weekend."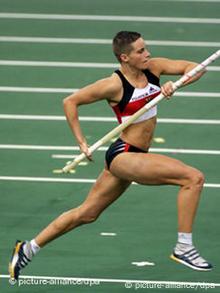 Buschbaum stays fit and helps other pole vaulters train in Mainz
A year has passed since Buschbaum revealed that she felt like a man trapped in a women's body and would undergo the gender change to find her personal freedom.
She appeared in television talk shows and also won respect in the athletics scene for her courage.
But the medical implications of the gender change -- the use of doping substances -- required Buschbaum to quit pole vaulting, with European championship bronze medals from 1998 and 2002 the best results for the athlete with a personal best of 4.70 meters.
Shortly-cropped hair always made Buschbaum look boyish, but now facial hair and muscles are growing, and the voice is deeper. Buschbaum also has a new ID card as Balian Buschbaum.
Starting a new life
"Some friends wished me happy birthday," she said in her diary shortly before Christmas 2007 as the treatment started. "As if the first testosterone shot was my second birthday. It was the start of a new life."
Things have gone well even though Buschbaum is at time a little unnerved by the wait for further treatment.
The use of testosterone has also given him a unique outlook at the doping issue because, as he says, he is living these changes through the use of banned steroids.
Buschbaum is keeping fit by training for an upcoming new role as pole vault coach at the USC Mainz club in central Germany.
"I wanted to leave my sport behind but I am more addicted to the drug that is pole vaulting than I thought," he said.