Most of us can somehow relate to storytelling, whether it was hearing about Jack and the Beanstalk, the Tortoise and the Hare, or about Anansi, a spider character portrayed in West African storytelling. These stories can stick in our heads even when we are adults.
That was certainly the case for John Saad as he smiled and listened to storyteller Usifu Jalloh aka the Cowfoot Prince perform for an audience in Freetown, the capital of Sierra Leone.
Jalloh was telling a story about how to deal with pressure when it reaches a boiling point.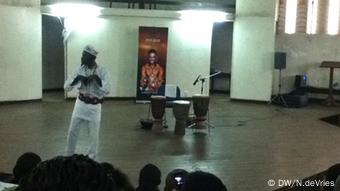 You need to have an understanding of your culture, says Usifu Jalloh, and storytelling can help with that
He used humor and a variety of voices, but his story also drove home a message. That is what storytelling is all about, says Saad, who grew up with it in Sierra Leone.
Storytelling has always been a part of African culture. While it still thrives in some West African countries such as Guinea and Burkina Faso, Saad says it is slowly dying in Sierra Leone.
Hearing Jalloh brought back fond childhood memories of storytellers who used to perform around the Christmas holidays. "That was the time they would come and tell you stories about animals depicting human beings and tell you things that would teach you about morality, teach you about your history, your family background, about the warriors that came, that conquered here or did not conquer. But now we don't have much of that," Saad told DW.
For Saad, keeping storytelling alive is important for Sierra Leone's culture. "The more we lose our culture, the worse it becomes, because you're losing your identity," he says. "And once you lose your identity, you're nowhere. You can't turn here, you can't turn there."
Preserving the country's heritage
Storyteller Usifu Jalloh also wants to make sure these stories are not lost forever. Jalloh, who is currently based in the United Kingdom, has performed all over the world, entertaining and educating people with his storytelling.
He has been performing in Sierra Leone for the past few weeks. He says he is the only storyteller who still performs in the country. He is reaching out to young people to get them interested and to hopefully revive this tradition. "One thing I am driving for is for my people to validate our own identity and relevance with the modern world," Jalloh told DW.
He grew up with storytelling in the village of Kamakwie, in the northern part of Sierra Leone. It was here that he first experienced storytelling from his grandparents and other relatives. "It's not just about sitting down and laughing. My grandmother always said: Tickle them ... When their mouths are wide open with laughter, pour in the truth," Jalloh said. "So my stories are loaded with powerful information for them to grapple with and decipher and make informed decisions about where young people want to take their country."
The country, he says, has lost its way, lost is identity. He believes many factors have played a part, for example the British colonization of Sierra Leone. According to Jalloh, a lot of storytelling started to die then. He also points to a more recent factor: the country's civil war, which lasted for eleven years and ended in 2002.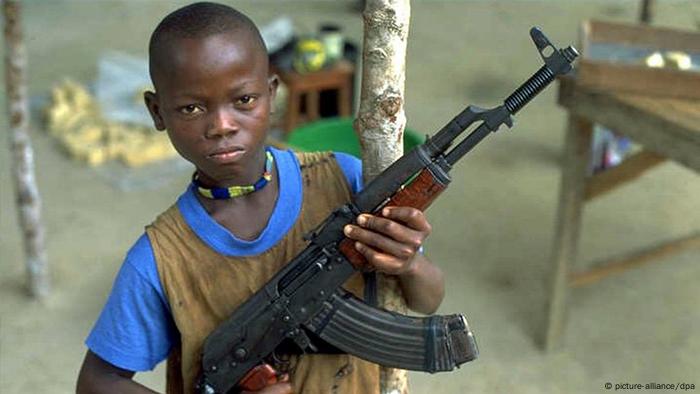 Sierra Leonean children like this boy who grew up during the civil war had no chance to listen to stories
An estimated fifty thousand people were killed and thousands fled the country. Jalloh says many people now in their 20's and 30's grew up during this war and lost much of their culture because of it.
Like Saad, he says it is important that people have an understanding of their culture, and storytelling can help with that.
Inspiring young people
When Jalloh performed at Fourah Bay College in Freetown, the reactions were positive. For student Diana Doherty, Jalloh's mission to revive oral tradition is crucial to Sierra Leone. "[We] younger people, we follow or we imitate so much of this western world, and we're losing [our culture] - even the way we dress. We're losing so much. If we could have two or three [people like] Usifu come into Sierra Leone every year, say every three months, by the end of the year, young adults will start realizing that we've been missing something," Doherty said.
She has her own plans to bring storytelling back to the country and says Jalloh is an inspiration. She works at a local TV and radio station and is planning to create a weekly radio talk show that can incorporate storytelling.
Passing on the tradition
Jalloh hopes more youths will embrace the oral tradition and says he will continue to work hard to make sure storytelling will have a lasting impact. "I strongly believe that the salvation of Sierra Leone as a nation lies within its culture, within its art form.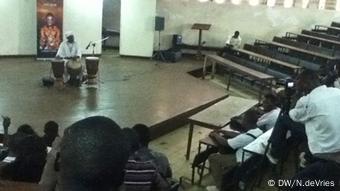 Jalloh uses drums and other percussions to accompany his stories
It lies within the Sierra Leonean awakening to his own identity and validating his own reason for being a Sierra Leonean," said Jalloh.
Jalloh is planning a cultural and literary festival, known as the Maambena fest, for the fourth year in his hometown. It will happen in April. Last year, he says, about 3,000 people attended. He also plans to work on a major drumming festival, during which drummers from around the world can gather in Sierra Leone not only to do workshops and play music together but also to perform storytelling with drums in schools.