The restructuring is party of the conglomerate's plan to reorient its Siemens Enterprise Networks (SEN) unit, a company statement said on Tuesday, Feb. 26.
Cuts of some 3,800 jobs will be global, with around 2,000 jobs axed in Germany alone. The company is to transfer another 3,000 jobs to partners or other units.
The telecommunications unit employs a total of 17,500 people, 6,200 of whom work in Germany.
"This is probably about smartening it up for a potential buyer," said an IG Metall union spokesman, ahead of Siemens' announcement.
Casualty of Internet telephony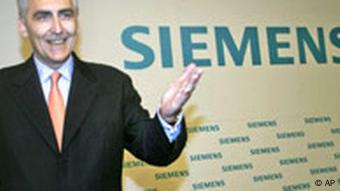 The Munich-based conglomerate's CEO is attempting to sell off SEN
Siemens Enterprise Networks, which specializes in communications systems for large corporations, has been hit by the rise of Internet telephony.
The company is reportedly pushing forward with an overhaul of the segment in a bid to make it more attractive to potential buyers. Negotiations have reportedly been going on with competitors Alcatel-Lucent and Nortel, as well as the financial investment firm Cerberus. Siemens has been trying to sell SEN for the past two years.
The move is part of Siemens CEO Peter Loescher's efforts to reorganize the engineering conglomerate. He took charge amid a corruption scandal at Siemens in mid-2007 and has subsequently shuffled the conglomerate's former dozen units into three major business areas -- industry, healthcare and energy.