"The government of Serbia has no united policy any more on an important issue related to the future of the country -- Kosovo as a part of Serbia," Kostunica told reporters in Belgrade.
"Such a government could not function any more. This is the end of the government and we should return the mandate to the people," he said.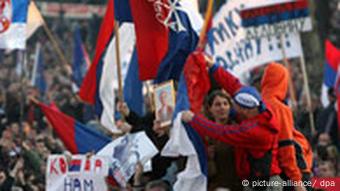 Belgrade has witnessed huge demonstrations against Kosovo independence
Kostunica said he had no more confidence that his coalition partners were "honestly" trying to keep the breakaway province Kosovo Serbian.
He said his cabinet would meet Monday to ask it to dissolve the parliament. Serbia, he said, would "most rationally" hold early parliamentary elections on May 11, together with municipal polls and elections for authorities in Vojvodina, Serbia's northern province.
The outgoing cabinet took over after early elections in January 2007.
At odds over Serbia's EU future
Kostunica's nationalist Democratic Party of Serbia (DSS) has split with its coalition partner, the Democratic Party (DS) of the pro-Western President Boris Tadic, over EU rapprochement after Kosovo declared independence on February 17.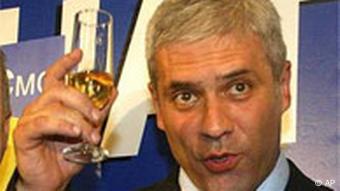 President Tadic is opposed to Kosovo independence but in favor of Serbia's integration into the EU
The DSS, backed by ultra-nationalist opposition Serbian Radical Party, vowed to stop Serbia's integration into the European Union, following anger over most EU members' recognition of the new state of Kosovo.
While also opposing Kosovo's independence, Tadic and his party maintain that Serbia has no alternative than to continue along its EU path.