The stars of the film are Estonian-American conductor Paavo Järvi, the members of Deutsche Kammerphilharmonie Bremen and, of course, Robert Schumann himself !
For this concert film, the television crew chose an unlikely location, a former dockyard building at Bremen's port. "Pier 2" usually hosts rock concerts, but suddenly a classical conductor and orchestra were rehearsing Schumann's four symphonies there. The building, with its striking industrial flair, was also the venue for the lavishly staged concerts. The result was a unique, unprecedented television document of Schumann's symphonies.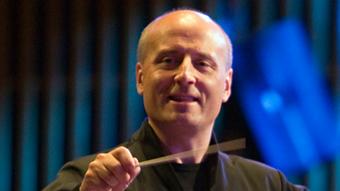 Conductor Paavo Järvi: "Schumann moves me because his music is so impulsive."
This two-part concert film offers a behind-the-scenes look at both the rehearsals and the concerts. One special feature is studio recordings, made by individual members of the orchestra, of selected passages from these Romantic masterpieces. Informative commentary by the charismatic director Paavo Järvi makes this film into an entertaining, fascinating and enlightening musical experience - an audio-visual journey into Robert Schumann's symphonic universe.
Captivating, comprehensible and enjoyable music television for both hardcore and neophyte classical music fans!
Links:
Broadcasting hours:

Part 1:

DW

SUN 20.10.2013 – 22:15 UTC
MON 21.10.2013 – 06:15 UTC
MON 21.10.2013 – 13:15 UTC
MON 21.10.2013 – 17:15 UTC
TUE 22.10.2013 – 04:15 UTC
TUE 22.10.2013 – 10:15 UTC

Cape Town UTC +2 | Delhi UTC +5,5 | Hong Kong UTC +8
San Francisco UTC -7 | Edmonton UTC -6 | New York UTC -4

DW (Europe)

MON 21.10.2013 – 04:15 UTC
MON 21.10.2013 – 17:15 UTC
TUE 22.10.2013 – 06:15 UTC
TUE 22.10.2013 – 13:15 UTC

London UTC +1 | Berlin UTC +2 | Moscow UTC +4

DW (Arabia)

MON 21.10.2013 – 13:15 UTC
TUE 22.10.2013 – 04:15 UTC
TUE 22.10.2013 – 11:15 UTC

Tunis UTC +1 | Cairo UTC + 2 | Dubai UTC +4

DW (Amerika)

MON 21.10.2013 – 06:15 UTC

Vancouver UTC -7 | New York UTC -4 | Sao Paulo UTC -2


Part 2:

DW

SUN 27.10.2013 – 22:15 UTC
MON 28.10.2013 – 06:15 UTC
MON 28.10.2013 – 13:15 UTC
MON 28.10.2013 – 17:15 UTC
TUE 29.10.2013 – 04:15 UTC
TUE 29.10.2013 – 10:15 UTC

Cape Town UTC +2 | Delhi UTC +5,5 | Hong Kong UTC +8
San Francisco UTC -7 | Edmonton UTC -6 | New York UTC -4

DW (Europe)

MON 28.10.2013 – 04:15 UTC
MON 28.10.2013 – 17:15 UTC
TUE 29.10.2013 – 06:15 UTC
TUE 29.10.2013 – 13:15 UTC

London UTC +1 | Berlin UTC +2 | Moscow UTC +4

DW (Arabia)

MON 28.10.2013 – 13:15 UTC
TUE 29.10.2013 – 04:15 UTC
TUE 29.10.2013 – 11:15 UTC

Tunis UTC +1 | Cairo UTC + 2 | Dubai UTC +4

DW (Amerika)

MON 28.10.2013 – 06:15 UTC

Vancouver UTC -7 | New York UTC -4 | Sao Paulo UTC -2