A children's song by a little girl has raced to the top of the German singles charts in just a few weeks. The song Schnappi, das kleine Krokodil or "Snappy, the little crocodile" has relegated hits by Linkin Park, Snoop Dogg and Kylie Minogue to the lower echelons of the Top 10.
The song is basically about the teething efforts of a little crocodile with lots of sharp teeth. Seven-year-old Joy Gruttmann's aunt Iris recorded her singing the tune three years ago, when she was four. Iris Gruttmann, who co-wrote the song, then posted it on the Internet as a kind of family joke.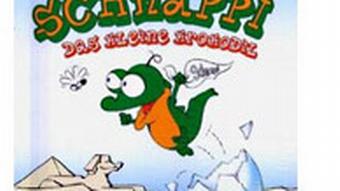 Everyone wants the Schnappi CD
But when a couple of major radio stations discovered the song, other pop stars didn't stand a chance. The tinny-voiced "Schnappi" is on rotation on radio stations nationwide and MTV.
Even nightclubs are playing a disco remix version, with people crowding the dance floor, singing the refrain "Schni Schna Schnappi."
Media hype
"Schnappi is a charming, sincere children's song," said Gruttmann. "Maybe that explains its huge success."
Gruttmann has been writing children's songs for the past 10 years. She has composed numerous tunes for the German public television show Sendung mit der Maus.
She said her niece doesn't mind the media hype surrounding the song's success. Joy is the youngest recording artist in German history to make it into the German Top 10. She has been doing the talk show circuit since the song took off.
"Of course, it's all very exciting for her, but Joy is dealing with it very calmly," Gruttmann said. Joy had only told her three best friends that she would be frequently appearing on television.
Schnappi on the phone
But the Gruttmann family is certainly snapping up all they can from the song's popularity.
The little crocodile already has his own Web site, where fans can buy Schnappi baseball caps and t-shirts, as well as the official Schnappi CD, video, DVD and video game.
The hit single is even available as a mobile phone ring tone.