Sarkozy, Prodi and Zapatero agreed there was a need for a "Mediterranean Union," they told reporters at an evening press conference in Rome on Thursday, Dec. 20. The French president said Paris would hold a summit for potential members on July 13, one day before an EU summit in Brussels.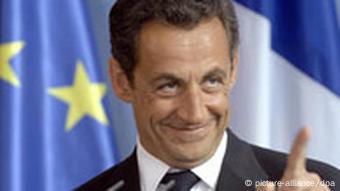 Sarkozy has been pushing for his idea since before he took office
"The idea of a Mediterranean Union ... a real one aimed at peace, dialogue and development, has been mentioned many times before, but never a pragmatic way to achieve it," Prodi said, after a 45-minute meeting of the three men.
"Well tonight we have started doing this," he added. "The Mediterranean must be at the center of European policy."
Immigration and environment would be central to the new entity's focus, Zapatero said. Both he and Prodi stressed that such an initiative would "start with the European Union."

"Mankind's future"

In recent weeks Sarkozy has pressed the idea of a union of the 20 countries along the Mediterranean Sea, including Israel and Syria, on several occasions, an issue he already brought up in February, even before he was elected president.

"It's in the Mediterranean that some of mankind's future will be decided," Sarkozy said at Thursday's news conference.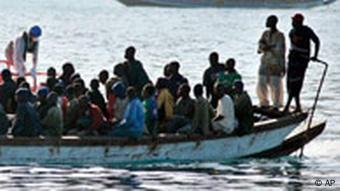 Immigration would be a focus

The Frenchman's push has irritated some in the European Union, including German Chancellor Angela Merkel, who was concerned that a Mediterranean union could pose a threat to the 27-state bloc.
Merkel openly expressed her misgivings about the idea ahead of an EU summit in early December, resulting in a Franco-German agreement that the two countries would jointly draft a proposal for it.

Along with Merkel, Sarkozy is opposed to Turkey joining the EU. Some critics see his Mediterranean Union plans as an alternative to Ankara becoming part of the bloc.

"Turkey is not in Europe but in Asia Minor, and this is a geographical reality," Sarkozy said in an interview with Radio Vatican on Thursday, as he reiterated his stance that the country should not become part of the EU, German news agency DPA reported.